Column
2023: In presidency, we're OBIdients, in Senate we're YPP – Umeadi
Interview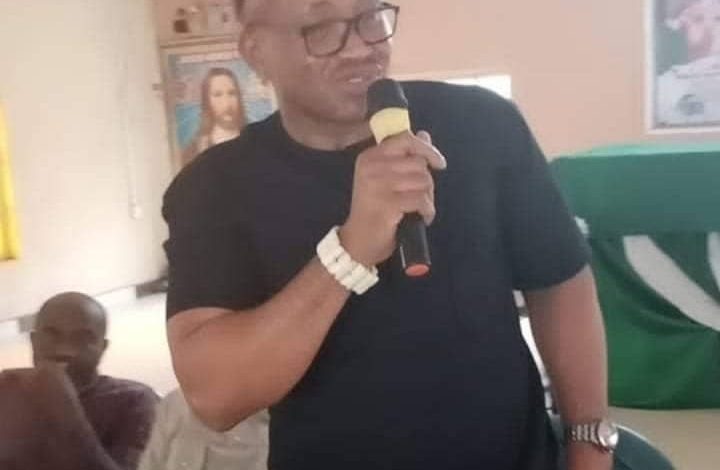 Dr Chinedu Umeadi is a medical practitioner based in the United States of America. He is from Abagana in Njikoka Local Government Area of Anambra State. He is contesting for a senatorial seat in 2023 on the platform of Young Progressive Party( YYP). In this interview with our correspondent, TONY OKAFOR, he states why he wants to be a senator for Anambra Central Senatorial District.
Can we know you ?
I'm Chinedu Umeadi , a medical practitioner.I was trained here in Nigeria and had my primary education in Abakaliki before I moved to Imo State for my secondary education. I also had a stint at Nnamdi Azikiwe University, where I read micro biology before I went to Abia state where I was trained as a doctor.
Why do you want to be a senator?
We have never had a senator with a difference in Nigeria and for the first time in the country, I assure you that you will have a senator with a difference representing his people at the senate. The mistake we have repeatedly made over the years is that we kept on recycling the same set of people that end up punishing us.
When the selection is around the corner, they begin to make nonsensical promises which within them, they know they cannot fulfill. To start with, I will start teaching the populace what quality representation is all about. The people have been poorly represented because those representing them have not made them feel the impact.
The system in Nigeria is in shambles. There is insecurity everywhere and poverty here and there. The inflation is on the rise; our children finish in the university without meaningful employment. We need to have a situation where the people gather with their leader to have a chat on the need of the town.
Another aspect is qualification. One can be deemed qualified academically or being an expert in a line of trade. When I look at some of these people representing us, what they have is zero qualification. I have observed the way things go and it breaks my heart each time I am in Nigeria and observed the system in shamble because the system is not managed by capable hands.
These are the things I want to address with my experience in hospital management. I am qualified as a medical doctor and experienced consultant in mental health, forensic medical examiner, public health specialist, researcher, lecturer and administrator.
There is what is called NEEDS Assessment Theory. Each set of people have different needs. If elected, my style of approach is strategic assessment of different constituents. This is what my purpose of being in an electoral office entails, achieving people oriented goals with accurate and systematic verifiable plans to achieve them.
You are doing well in your profession. Why did you choose to leave your good job for politics?
I'm a medical doctors and I have been doing well in my profession. I am not contesting because I'm the strongest or because I'm the most intelligent. I'm quite comfortable and live comfortably with my family, but the world is not all about that. It is not all about me and my family. It is of no use that only you and your family live in comfort zone and people around you are suffering. There is a reason for that and that is what I have come out to address. I have an intention of touching more lives as a politician, because there is limit an individual can touch the lives on his personal capacity.
Usually, I'm worried that people asked for school fees of about N20,000. I have a foundation to reach out to the poor, especially the brilliant one, who have good results but no body to train them.
Are there no other way you can help humanity other than going into politics?
I have my foundation named, Dr Chinedu Umeadi foundation. It is through it I help the poor and downtrodden in the society. The foundation is known for youth empowerment programmes, scholarships to indigent students and annual free medicare to the aged and the sick. What made me develop more hunger to help humanity is after I was given an honorary doctorate degree by Abia state university for what I did in the past. It was a time of sober reflection for me and that prompted me into establishing the foundation anchored on reducing the poverty in the communities and also treating people with health challenges. There is a limit one can do as an individual. I thought I can do more as a senator.
About two persons are your direct rivals for the senatorial seat and they are recognized as political masters. What made you think you can wrestle power from them?
The so-called political masters are those that go back to Abuja to enjoy good life with their family after being elected. I am not worried or interested about those people manipulating the electoral process to win election. We are in the era of polling revolution. Our people are now politically educated and they will vote right this time during the election. The youths are no longer interested in nonsense. The good news is that I came out under the platform of a reputable party and another is that I won the primary ticket.
The 2023 Presidential and Senatorial elections will hold the same day. Are you not threatened that people will feel that YPP is not OBIdient to the cause of Mr Peter Obi, the presidential candidate of the Labour Party (LP)?
In presidency, we are obedient but in senate we are YPP. I don't think there is a press conference I go that I am not asked about the Obidient Movement. Mr Obi is a great Nigerian citizen of Anambra extraction. He did very well when he governed Anambra state. You will agree with me that Nigerians, up till today, have not been ruled by the right candidate. I think political parties in Nigeria made hude mistake by not zoning presidency to the southeast. Now, we have only one person from southeast and everybody knows how good he is. Obi is clear on what he want to do and people love him for that. I have not heard Peter Obi say Labour Party is this or that. He talks about himself. So we are not talking about party but as individuals contesting.
What are the mechanism you or your team have put in place to stop people from voting LP across the elective positions especially in the state?
Majority of Nigerians are now literate when it comes to voting. We are not in state governorship but, general election. It is no longer about party but about individuals and the people know what to do. The message is vote ebe eseru onye ji akwukwo ndu (vote where somebody is holding green leaves). We are going to have people on ground to enlighten people on that.
How much control can you bring to the floor of National Assembly to convince members on issues of concerns such as referendum and restructuring?
That lies in the power of convincing people and that is where I am an expert. First of all is to know that people have their views on every matter. So, the job is to identify those that will counter your own view then, start consultations. Consultation is not just about asking people to vote for you, but also done at the National Assembly.
When you are loaded with restructuring and referendum and you tell people', this is what I want', and this is the way we are to do it. You are asking for trouble and be prepared to fight till you die because there is trouble if you don't win.
So, you can encourage the process by agreeing to give it some time and when it doesn't work, you already have a gentleman agreement. We would negotiate that after 10 years and if it didn't work, there would be no fighting and quarrels.
Your party seems to be less popular in Anambra central compared to Anambra South, what mechanism are you adopting to ensure that you match the popularity of other parties in the central?
You see, different parties have different capacities and structures. PDP, APGA and the rest have been around and are older than YPP. But my party in the state is growing. Remember that during Anambra guber, YPP grew across the state. I want the politicians to keep thinking we are not known or that we don't have structures until we shock them in the election. So, we are not worried about that. Our structure is getting stronger. Other parties do not have stronger structures, what they have is more stakeholders. But we know what we are doing and we would surely get there.
Are you not worried about the issue of uncollected PVCs in Anambra state. What drive have you made to ensure that people collect their PVC?
The uncollected PVCs are a concern to us the party candidates. But through our media platforms and other avenues, we are encouraging people to go and pick their voters cards. Again, churches being critical stakeholders in information dissemination have been engaged in that regard.
BVAs issue is still a concern generally but INEC has given us assurance that they are working on it. I'm not aware of any candidates' meeting. Maybe they are scared of me but personally I am doing a lot to improve on that.
What will be your plans for women in Anambra if elected ?
There is nothing that can be done without women. Women are hugely part of my plans and I have the intension to empower them.
You have not contested any election in Anambra state and now you have chosen senate as your first shot in politics, how confident are you that you can withstand the storm of Anambra politics?
When it comes to helping people, we all have our individual ways. What I am after is the good of Anambra state. I don't look at who is on ground. I decide what I want to do and I design how to achieve it. I have my own style which is different from others.