Politics
2023: Labour Party unveils Umeh,43 others as candidates in Anambra
Politics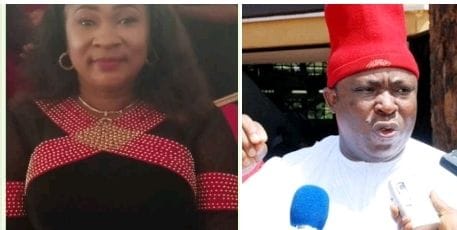 Nwafor Okafor
The Labour Party (LP), on Friday, unveiled a former National chairman of the All Progressives Grand Alliance (APGA), Senator Victor Umeh, as its senatorial candidate for Anambra central district in the 2023 general elections.
Also unveiled were: a former governorship candidate in the state on the platform of the All Progressives Congress ( APC), Dr Tony Nwoye (Anambra North), Dr Obinna Uzor (Anambra South) and a former Commissioner for Women Affairs in the state, Mrs Ndidi Mezue( Ekwusigo) amongst others.
The unveiling which took place at a popular event centre on the Onitsha expressway, Awka, had all the three Senatorial candidates, 11 House of Representatives and 30 State House of Assembly candidates in attendance.
Speaking, the National Organising Secretary of the party, Chief Clement Ojukwu, who performed the ceremony, said the unveiling exercise which was happening simultaneously nationwide , was to alert Nigerians that the Labour Party was fully prepared for the 2023 elections in all intents and purposes.
He said the candidates were elected during the party's primaries based on their vast experience,political backgrounds and sagacity.
Ojukwu, urged the candidates to commence aggressive consultation with the electorate and other relevant stakeholders in their various constituencies, announcing that the LP, being workers' party, would join the Nigeria Labour Congress (NLC) planned solidarity protest slated for July 25-26, 2022 to mediate in the ongoing disagreement between Academic Stsff Union of Universities (ASUU) and the Federal Government.
Ojukwu directed that over 50 Peter support groups be collapsed to Labour Party so that everybody would work for the party; sequel a committee was set up and mandated to work for the harmonisation of the various support groups and submit their report to the national leadership of the party within teo weeks.
Ojukwu added, "All support groups/ individuals are equally directed to submit their memos/opinions on the harmonisation process to the committee which will be sitting at the Labour Party Secretariat in the state.
In his remarks, the party's presidential candidate, Mr. Peter Obi, who was represented by an erstwhile diplomat, Oseloka Obaze, said the Labour Party had come to renew, tranformed and free the country from security and social economic challenges.
He appealed to supporters to accept new members in their various areas to ensure victory at the elections.
The State Chairman of the party, Chief Ugochukwu Eme, in his address, said all the LP candidates were accomplished administrators and politicians committed to the development of Anambra state and Nigeria at large.
Speaking on behalf of the candidates, Senator Victor Umeh, appreciated the National Working Committee of the party and stakeholders for finding them worthy to pursued their political dreams under the party's platform.
He vouched of their commitment to ensure the victory of the party in the 2023 general elections, stressing that the LP's presidential candidate, Mr Peter Obi, who had become a household name many months before the general elections, would be an irresistible brand in next year's poll.