Politics
2023: Zebrudaya, monarchs, priests, others drum support for Umeh
Politics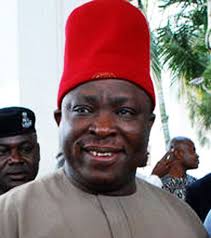 Tony Okafor, Awka
Popular comedian, Chika Okpala, known as Chief Zebrudaya Okoroigwe Nwogbo, alias 4.30 of the New Masquerade show; monarchs, priests and other stakeholders in Anambra Central Senatorial District have advocated the return of Senator Victor Umeh of the Labour Party (LP) to the senate as a matter of competency.
The stakeholders stated this on Thursday on the platform of Anambra Central People's Forum, a body made up of professionals of various callings, comprising community leaders, the clergy, youths, and captains of industry.
Umeh was elected in 2015 as the senator for the district but protracted ligation cut his tenure short in the red chamber to less than two years.
But the stakeholders of the district on Thursday vowed to return him to National Assembly because of his competence.
According to the Chairman of the Forum, Mr Achebe Chris, it was not the custom of the organisation to be quick in taking sides with political aspirants, adding "but the monumental legacies and unprecedented achievements left by Senator Victor Umeh at the Senate chamber are too intimidating and gigantic to be relegated to the background; he is the most suitable person for the job.
"Senator Umeh is a grassroots and youth-friendly politician, the man of the people who believes in accessibility, open-door policy and people-participatory representation whose knowledge, skills and years of experience will help turn around the fortunes of Anambra Central Senatorial Zone, and energise the upper arm of the National Assembly. He knows our plight and he will do everything right to arrest the dwindling fortunes of the people."
"When he was there at the Red Chamber, there was so much development around us. We know that with his display of great sense of courage, steadfastness and tenacity of purpose, he will be able to truly represent the good and enterprising people of Anambra Central Senatorial Zone and equally help to further champion the cause of Ndigbo in the National Assembly. We are solidly behind him in 2023", Mr. Achebe, declared.
"The discussions centred on how to build a formidable structure/platform that will help to send Senator Victor Umeh back to the Senate.
Achebe charged the seven Local Government Areas coordinators of the district to go back to their different LGAs and set up ward structures with the aim of spreading the message of Senator Victor Umeh's re-election bid.
Another member of the Forum, Chief Uchechukwu Okeke, said the forum decided to lend their support to Umeh's Senatorial bid in demonstration of their belief in his capacity to deliver.