Human Interest
News
Again, Soludo Bars Uzu Awka's Ally, Anagor from Parading as Awka PG
Community affair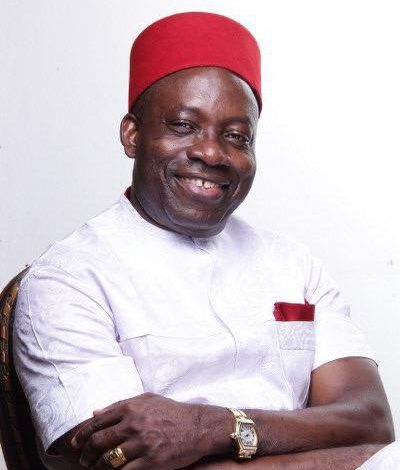 Accolades have continued to pour in for Anambra State governor, Prof Chukwuma Soludo for stopping Awka Chief, Mr Austin Ndigwe, who is also known as Uzu Awka from Parading as the monarch of Awka Kingdom.
To further drive home the resolve to bring sanity to communities in Anambra State, the governor has yet again barred one Chief Emeka Anagor from Parading himself as the President General of Awka Development Union.
THE RAZOR NEWS gathered that Anagor has been working hand in hand with the now outlawed monarch, Ndigwe, even without certificate of recognition as the president general from the state government.
Anagor had signed the message inviting guests to Saturday's botched new yam festival that was billed to be celebrated by Ndigwe.
in a press release by the Anambra State Government through the Ministry of Local Government and Chieftaincy Affairs, which was signed by the commissioner, Hon Tony Collins Nwabunwanne, Anagor was warned to stop parading himself as the President General of Awka Development Union (ADU).
The letter cited that the only recognized President General of Awka Development Union is Barr. Kanayo Nwogbo.
The letter warned Anagor to stop impersonating the President General of Awka Development Union forthwith, as any further actions would attract severe sanction.
The letter stated that Awka community held it's elections, which was monitored by government agents, where Nwogbo emerged in 2020, and that he remains the only recognised president general of the community.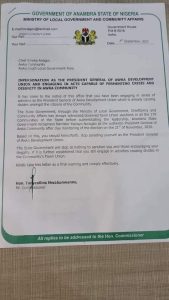 Meanwhile, there have been jubilation by most Anambra people, over the resolve of Prof Soludo to ensure sanity in Communities in the state.
Most communities in the state have two kings and factional town unions, and this has led to crisis in such communities.
A source told THE RAZOR NEWS that government has noted all the communities having issues with leadership, and has also noted those behind such crises, and will continue to ensure that they stop dividing such communities.
"You will see," the source said. "Soludo will humiliate them one after the other. If anyone told Uzu Awka that he can be humiliated the way he was humiliated Today, will he accept?
"At some point, Uzu Awka even dared former Governor Obiano to try any nonsense with him, and a lot of people were seeing him like a very powerful man, but yesterday, Soludo clipped his wings. With all the preparations he had made, all the dignitaries that were present, the entire place was cleared and everyone chased out. I'm sure all the food he had cooked were wasted, and he had spent a lot of money buying drinks, and was also getting ready to receive big men with gifts. Even the high calibre guests he had prepared to honour at the festival, none could lift a finger to save him."