Column
Anambra 2025: Obi-Okoye And APGA Grapple With Political Uncertainty
Politics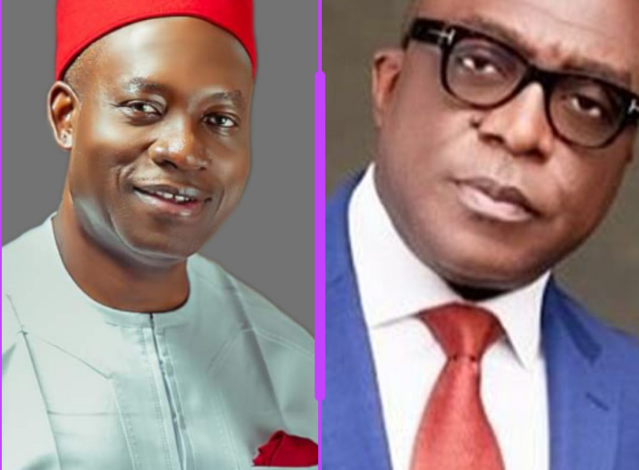 By Chibuike Uloka
The specter of potential defeat and political irrelevance is haunting Obi-Okoye and APGA, prompting them to lash out verbally against prominent stakeholders in an attempt to conceal Soludo's and APGA's underperformance. Rather than engaging in petty verbal attacks and creating unnecessary conflicts for the struggling Soludo, Chief Obi-Okoye should focus on improving his own situation and managing the challenges of old age on his side.
Chief Obi-Okoye's recent gaffe against Professor Obiora Okonkwo only highlights the panic within the APGA party. This panic stems from the growing popularity of Professor Okonkwo and the loss of confidence in both APGA and Soludo.
While responding to Obi-Okoye's recent gaffe statements may seem unnecessary, offering advice for his own well-being becomes imperative to help him navigate the difficult task of supporting an already unpopular Soludo and APGA.
Chief Obi-Okoye is certainly a respected figure, and it is not our intention to ridicule him. However, the truth must be spoken. He needs to rescue himself from his current predicament, as old age seems to have caught up with him, leading to cognitive dissonance, emotional outbursts, a sense of failure, and low self-esteem.
One would expect Chief Ifeatu Obi-Okoye to assist the struggling and unpopular Soludo in justifying his twenty months in office and the appropriation of over four hundred billion naira since his inauguration as Executive Governor in March 2022. However, instead of addressing the needs of the people, Obi-Okoye has chosen to ignore their suffering and attack Professor Obiora Okonkwo, who has not declared any interest in running for governor in 2025.
Chief Obi-Okoye's comments only serve to highlight the real panic within the misruling APGA party and reflect the frustrations of Soludo and his cronies over Professor Okonkwo's refusal to join APGA, as well as surge in popularity.
Despite being more qualified, capable of solving Anambra's problems, and more popular than Charles Soludo, even amongst APGA supporters, I still do not think that the issue of contesting in 2025 is necessary. Rather than focusing on who will run for the Anambra Governorship in two years, what is truly important for Governor Charles Soludo and APGA would be to deliver on their campaign promises, address the plight of the people, tackle poverty and unemployment, improve security, build infrastructure, and justify the appropriation of over four hundred billion naira of taxpayer money in twenty months.
Chief Obi-Okoye hails from Ogidi, the same hometown as Professor Obiora Okonkwo. But instead of calling on Governor Soludo to complete the flood control project at the Ogidi section of the Onitsha-Awka old road, which was a creation of an APGA administration and has been worsened under Soludo's leadership, causing suffering to residents and small businesses along the axis, Obi-Okoye has chosen to ignore this critical issue and instead sing the praises of a man who has done little or nothing at all for his own people, despite receiving significant votes from Ogidi in the 2021 gubernatorial elections.
Can Obi-Okoye point to even one successfully completed project by the Soludo administration in Ogidi that would appeal to the people and convince them to reward APGA with their votes in 2025?
It is clear that the frustration expressed by the APGA state chairman is that of a jilted lover and someone fearful of his diminishing political relevance.
As painful as it may be to admit, the temporary exit of Professor Obiora Okonkwo from the PDP in 2021 to run for governor on the platform of the Zenith Labour Party played a significant role in Soludo's victory. Okonkwo's exit dwarfed the PDP's strength and votes, making the PDP candidate sterile and barren against Soludo at the polls.
Okonkwo should be commended for his unsung heroics in assisting Soludo's long-term desire to become governor and providing APGA with another undeserved term in power, rather than being attacked.
Regarding the last general election, I challenge Obi-Okoye to publish the results from his polling unit. It is well known that he lost his deposit and failed to help his party retain its state constituency seat. APGA also lost both state and federal seats, while Obi-Okoye lost his units and wards in a humiliating manner. It is puzzling why he is making such a fuss.
Obi-Okoye was already politically extinct before his comeback as the APGA state chairman. He was given a lifeline with a condition to bring Professor Obiora Okonkwo to APGA, and his failure to fulfill this condition has made him anxious and jittery. It is clear that if anyone is facing political retirement, it is not the peak and most in-demand Professor Obiora Okonkwo, but the aging and weak Chief Ifeatu Obi-Okoye.
The focus of the APGA state chairman should be on finding ways to address the flooding issues that have affected his ancestral home of Ogidi, rather than chasing shadows and attacking Professor Obiora Okonkwo, who is focused on bringing global attention and recognition to Anambra through the exploits of United Nigeria Airlines.
Professor Obiora Okonkwo, OFR, along with many other stakeholders, is committed to making Anambra work and holding Governor Charles Soludo accountable for his campaign promises. This insistence should not be misconstrued as a declaration to contest the 2025 elections.
ULOKA, Chibuike
Ulokachuks@yahoo.com