Column
Anambra Central Senate: I Love UZU
Opinion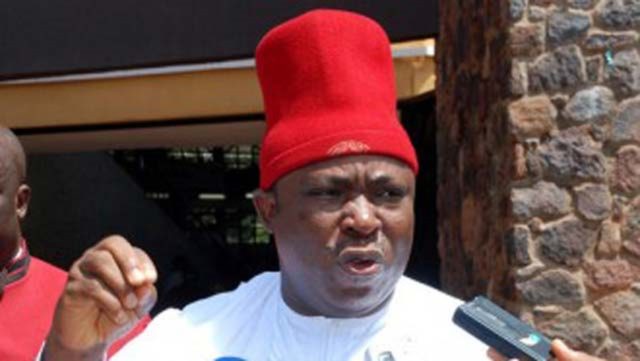 By Chyddy Eleke
Yes, I love Uzu. I mean Uzuegbunam Okagbue, the Anambra Central Senatorial aspirant for All Progressives Grand Alliance, APGA, and former Chief Protocol and Deputy Chief of Staff to former governor, Chief Willie Obiano.
I was among the few journalists he invited the day he made his intention public, and I confess that I fell in love with him. Young, handsome, suave, debonair dress-sense, rich and has a taste for good things. One other thing I discovered on the day of his declaration was his hidden side; soft spoken-ness and oratory.
Let me tell you the much I know of Uzu. I only met him close-up, to the point of talking with him during the Police Games. I and my children had gone to Ekwueme square to work out, when I sported him coming to inspect the facilities. I approached him to talk about the event and media coverage, and he was quite receptive. We talked about the relationship of his master's government and journalists, and he paid heed, but I doubt if I achieved any result. It was however the first time I ever heard him speak.
All through Governor Obiano's tenure, I always watched Uzu closely at public functions. He cut the shape of a guy who knew his job, and of course, he truly knew his job. You won't see Uzu around Obiano in a public function. He will stay far away in an obscure place, away from Obiano; who will be sitting at the podium, but if you look for the unknown hands propelling Obiano's action, Uzu is the hand (maybe Soludo's Chief Protocol should take a cue here. I have seen him out-dressing his master and scheming to appear in prominent pictures).
I was not surprised when in a video that trended, Obiano described Uzu before some foreign diplomats as a magic worker. In public functions that I monitored by myself, Uzu will stand in a corner, but using proxies and radio messages, he will control who sits next to Obiano, who shakes his hand in public functions, when he leaves too, and many other critical decisions. I'm however not sure if he controls the governor's speeches, but Uzu is surely a powerful guy, and knew his job while it lasted.
I support young people to root for political positions. I support guys like Uzu to do exploits in politics, but I think too that water should find its channel.
Uzu is young, just 44 like my humble self. His speech during his declaration showed he was far more articulate than I thought. But do you know? Senate is a different ball game. It is not about tarring roads and offering scholarships; Uzu can do that, and the current senator representing the zone is doing that, and another aspirant on the platform of APGA, Chief Victor Umeh has been doing it too.
Again, may I state that I love Uzu, his youthful push and drive, but Senate is more about established names, about ideas, and ability to argue on issues; historical and contemporary. There are Senators who never get noticed on the floor of the senate, no matter how highly they raise their hands to contribute to issues. But do you know? Umeh has a name already, no Senate President can look away when Umeh raises his hand in the chambers. If a Senate President try not to see his raised hand, I'm sure he can not feign ignorance of that conspicuous LONG RED CAP in the chambers. I support Umeh for Senate. It is not for any reason, except that Igbo needs a voice at the centre.
As APGA prepares to go for primary elections, may I implore delegates to think deep. They should think beyond renovation of schools (which Umeh is also capable of), but they must think of the total Igbo agenda, which Umeh has the capacity to shoulder, especially now that our own Senator Enyinnaya Abaribe is bowing out of the Senate to try his hands on serving Abia as Governor. I support Igbo to have a voice in the Senate, I think Umeh is a credible voice to have.
Eleke is a political correspondent, who has over a decade experience of covering Anambra politics.