Health
Anambra Health Agency officials storm markets to campaign for exclusive breastfeeding
Health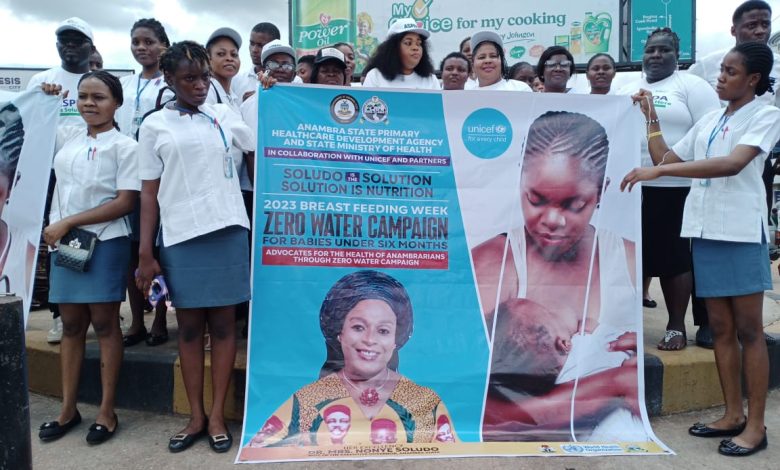 OFFICIALS of the Anambra State Primary Health Care Development Agency, APHCDA, and student nurses from Chukwuemeka Odumegwu Ojukwu University Teaching Hospital, Awka on Thursday stormed the major markets in Awka to campaign for exclusive breastfeeding among nursing mothers.
They moved from one line to the other in the markets and educated the mothers on the importance of exclusive breastfeeding.
The Executive Secretary of APHCDA, Mrs. Chisom Uchem, who led the campaign, described as unfortunate, a situation whereby majority of nursing mothers do not optimally breastfeed their children.
She advised women to take the issue of exclusive breastfeeding serious in the interest of their babies and the future of the country.
She said: "God gave women the gift for their babies which they should not deny them. Exclusive breastfeeding means that we should breastfeed our babies for six months without giving the baby water or any formula. After the six months, you can add water and any other light food to the babies' menu and still breastfeed them for the next two years.
"Babies who are breastfed exclusively are strong and do not fall sick. They are usually intelligent and would not get involved in hard drugs when they grow up.
"The woman who does exclusive breastfeeding is also healthy and won't get pregnant while exclusively breastfeeding.
"The practice of feeding babies extra water, in addition to breast milk, is common in Nigeria. This is harmful as extra water not only introduces illness- causing pathogens, but also reduces the child's thirst and effective suckling.
"The zero water campaign promotes giving babies breast milk only on demand, day and night, and stopping the practice of giving water and other liquids and foods from the moment of birth through the first six months of life".
According to her, all the active ingredients needed by the baby are contained in the breast milk, adding that forcing the baby to drink water during the first six months of birth is dangerous as the quality of the water cannot be guaranteed.
Recently, the United Nations Children's Fund, UNICEF, observed that over the years, the exclusive breastfeeding rate had shown only marginal increase from very low rate of two percent in 1990 to 17% in 2019.
According to UNICEF, only 38% of infants are exclusively breastfed in the first six months, adding that the laxity contributes to about 800,000 child deaths annually.