Anambra Media Gist
Anambra Journalists Couple Dedicate Twins,  After 13 Years of Marriage
Media watch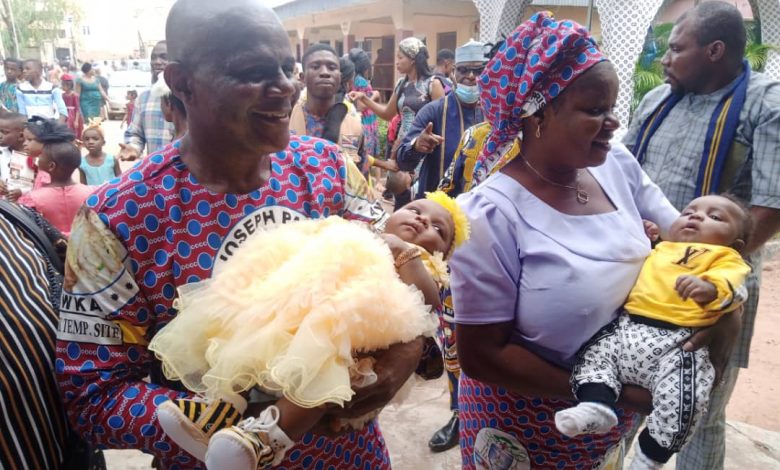 The Nigerian Union Of Journalist (NUJ) Anambra Council on Sunday celebrated her members, Mr Chris Obileri  and Mrs. Ngozi Obireli  as they dedicated their set of twin after 13 years of marriage.
MrChris Obileri of Radio Nigeria, Purity FM,and Mrs. Ngozi Obireli of Anambra Broadcasting Service,got married on December 28, 2007.
Mr Francis Ekpone  the Acting Chairman of  NUJ said the ceremony was worthwhile and commended the couple for living in peace and waited on God to bless them with children for13 years of marriage.
Ekpone urged other journalists who are yet to have children in their homes to emulate the patience and love shared among the Obireli's family who waited for a long time before God answered their prayers.
"I congratulate the couple for their strong trust in God and understanding to be united while praying for the fruit of the womb ever since their marriage, God will provide wealth to care for these children," he said.
Mr Abuchi Onwumelu, the Treasure of the union corroborated Ekpone's statement, he said that 13 years was not a small time in marriage and commended the love between the couple that sustained the marriage.
Onwumelu  said that children are the bundle of joy in homes and urged other members who are yet to have children to fervently wait for their time as in due time God who did it for the Obileril's will answer them.
Mr Gab Okpalaeze, Director News and Current Affairs of ABS described the event as a worthwhile event, a thing to thank God for, their perseverance is worth emulating, is a thing of great joy and a proof of faith in God.
Okpalaeze  said that they couple carried out their job of journalism optimally and never showed that they were yet to have children in their marriage for such a long rime.
"l am happy that God  answered them and advise waiting couples to emulate  their attitude to life and faith in God," he said.
He said that the Obileri's are known for their professional enthusiasm in doing their job as media personality and speaks reason why so many media practitioners across the other media houses came for the event.
Mr Henry Nwasike former NUJ  Chairman Anambra Council describe the event as event of God which proved that there is nothing late with God , only believe  and good  heart desires  will manifest at its due time.
Nwasike urged the couple not relent on the love that held them together for these long years and prayed God to provide for them all that would be needed for the training od the children.
Earlier in a homily to formally  present the twins to God as  an acknowledgement for his blessings and grace upon the family  the officiating priest, at St Joseph's Catholic Church,  Reverend Father Kelvin Okeke commended the couple for the presenting their children to God.
Okeke said that it was right for them to present the children to God as a mark of appreciation for God's blessings and urged Christians to strive to become Christlike and put their trust in God always.
He also called on politicians to make the lives of Jesus Christ the bedrock of their leadership and aspiration as Jesus was humble to serve the people who he was leading during his time on earth.
Reacting , Obileri  said that she has dedicated  her life to God as she has enjoyed great relief from the gift of children he gave her.
"I am so thrilled with the number of people that turn out to celebrate with me for the gidt of my children ,joy of being a mother is indescribable,". She said
She commended her husband for the trust and love he showed her these trialing years when people thought there was no possibility of conceiving for her again.
reports that the events witnessed people from other walks of life include  aluminums of University of Ibadan  Awka branch where Chris belonged to