News
Anambra poll: APGA rejects coalition with APC
Politics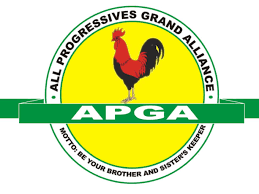 By Nwafor Okafor
The All Progressives Grand Alliance, APGa has rejected the suggestion for a coalition with the All Progressives Congress, APC in the November poll in Anambra State.
It described the opinion as cock and bull story.
The National Coordinator of APGA National Media Warriors, Chinedu Obigwe stated this on Monday in Awka, the Anambra State capital.
An APC chieftain, Osita Okechukwu had suggested that APGA should merge with APC in the "Zikist model strategy" to win the November 6 governorship election in Anambra.
Okechukwu said, "It is for this reason that I wish to appeal once more to APGA leaders to explore a Zikist Model merger with APC for a guaranteed seamless victory in the November 6 polls. In saying this, I know for sure that APC can win without APGA, but would enjoy the seamless victory with a Zikist model merger.
Reacting, APGA asked Okechukwu to perish the thought, describing it a grand deceit.
"APGA will not go into any merger with APC to win the November 6th governorship election because Anambra belongs to APGA.
"APC is not in existence in Anambra and that is why it is buying over people that will help it form the structure of the party in the state.
"Since Okechukwu loves APC so much, he should first of all work for Enugu his home state to become an APC state.
"APGA as a party has done marvellously well in Anambra hence the reason why ndi Anambra will continue voting for the party. As APC leadership is structured in Nigeria today, igbos that are members of the party are beggars and not decision makers.