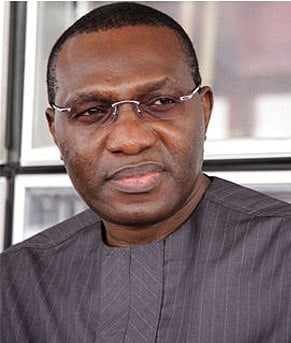 The candidate of the All Progressives Congress (APC), Senator Andy Uba has appointed the minister of Labour and Employment as chairman Board of Trustees of the Senator Andy Uba Campaigns Directorate.
Dr Ngige, a former governor in Anambra State was named during the inauguration ceremony held yesterday at the campaign office in Awka, where 27 directors were inaugurated to head 27 campaign Directorates in the campaign organisation.
Former Deputy Inspector General (DIG) of Police, Celestine Okoye (Rtd), was appointed as the Director, security services of Senator Andy Uba campaign team in Anambra State.
Also, on the security list is one time Chairman of the dreaded "bakassi boys " in the State and former member, House of Representatives, Chief Chuma Nzeribe.
One time Editor of Source Magazine and former member of the House of Representatives for Ogbaru Federal Constituency, Hon Victor Ogene, is now the Director of Media and Publicity.
Though Ngige was inaugurated in his absence, Uba while inaugurating the campaign Directorates described them as fishers of men, charging them to ensure that they bring more people into the fold of APC.
Uba also described President Muhammadu Buhari as a man of integrity, who should not be relied upon to rig the election for the party, rather all hands should be on deck to work towards winning the election meritoriously.
Uba said: "This election is a serious a battle. Don't take anything for granted.
It's wrong to think that because we're the party at the centre we must win the election by all means. That's wrong. We must win this election fair and square.
"President Muhammadu Buhari is not that kind of  person that will want to rig election for anybody. He a transparent and upright man.
"So, we must work hard to win this election. I have not slept for so many days because I'm doing my beat to ensure we win. Our telephone lines should be open for 24 hours. We need to be prayerful and hard-working.
"Never take anything for granted. The election must be credible and fair. Votes must count. We're prepared for this election," Uba stated.
Other Directorates inaugurated included, Contact and Mobilization, Finance, Women, Youth among others, while the former member of the All Progressives Grand Alliance APGA, Hon Ifeanyi Ibezi, who recently joined APC, was made the Deputy Campaign DG.
By Ifeizu Joe
Send an email
October 5, 2021