Politics
APGA Cages Umeoji, Nwankpo, Others, Say They Can't Go To Court
APGA affair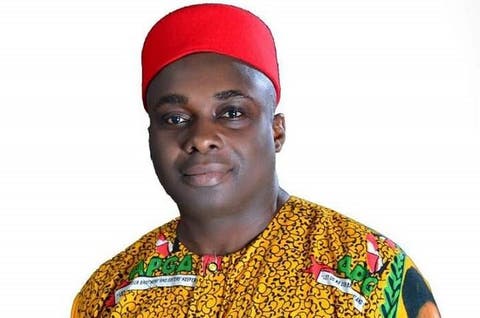 The National Coordinator of All Progressives Grand Alliance Media Warriors, Chinedu Obigwe, has said disqualified governorship aspirants of the party cannot contest their disqualification in court as a matter of law.
Describing such matter as not justiceable, Obigwe said section 87 of the Electoral Act barred such disqualified aspirants from challenging such matters in court.
On the purported suspension of the National Chairman of APGA, Chief Victor Oye, Obigwe said, "Those claiming that they have suspended Victor Oye and others are arrogating powers they don't have to themselves".
He added, "What is happening is not strange to me and many others because we already know that the aggrieved desperadoes are hell bent to play spoiler role for the party.
"The only thing is that on this particular issue they failed woefully.Their spoilers" game will not yield any fruitful result for them.
"I'm not a lawyer and when I see an issue that requires consultation with a lawyer, I don't hesitate to do that.
"I was informed by accidental Senator ifeanyi Ubah follower that AKachukwu Nwankpo secured Court injunction stopping APGA from conducting primaries for what he termed his unlawful disqualification from the contest.
"Now the opinion of the Lawyer I consulted is that according to the provisions of APGA constitution no member of APGA can take the party to Court without exhausting other peaceful avenues.
"Secondly section 87 of the electoral act as amended stated clearly that no Court can stop the conduct of a primary election any political party.
"So the kangaroo Court order they are claiming that AKACHUKWU Nwankpo procured will turn to a tissue paper in his pocket because as at today he has not served the party the Court injunction.
"On the issue of Victor Oye suspension, the impostors that claimed to have suspended him are jokers.
"They claimed that the NEC of the party met and dissolved the NWC.
The question to ask them is who is the NEC Chairman?.
"The NEC Chairman is Victor Oye and he is the only person that has the right to convene a NEC meeting of the party.
What the impostors did on AIT is an exercise in futility.
His statement further read in part:
Let me also remind this impostors that in 2018, an attempt was made to remove Victor Oye and Court of Appeal in its judgment made it clear that a Chairman of a political party can only be removed through a convention of the party.
That Court of Appeal judgement is in favour of Victor Oye and in his possession.
What the impostors did on AIT is a mere political macabre dance of shame.
APGA faithfuls should not entertain any fear because Governor Obiano and our indefatigable national Chairman in the person of Victor Oye are on top of any dirty game the aggrieved desperadoes want to play.
Again, in APGA we have somebody that knows how to tear kangaroo Court order to shred