Politics
APGA National Chairman takes evangelism to Ebonyi
Politics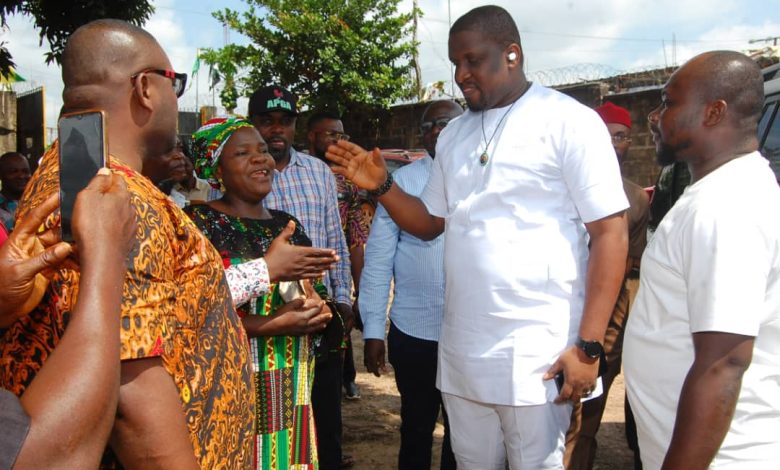 The National Chairman of the All Progressives Grand Alliance (APGA), Barr. Ezeokenwa Sly (Jr) has visited the Ebonyi State Working Committee (SWC) of the party in Abakaliki.
The visit marks a significant step towards strengthening APGA's position in the state.
The National Chairman, who was welcomed into the State by the Ebonyi State APGA Chairman, Chief Chukwudi Nwankwo, engaged the Ebonyi State Working Committee in productive discussions to strengthen the party's position in the state.
The session also included interaction with key stakeholders of the party in Ebonyi.
Ezeokenwa stressed the importance of unity, love, and peace among party members, reaffirming APGA's commitment to fostering a strong bond within its ranks.
The National Chairman expressed his admiration and heartfelt appreciation for the unwavering dedication and efforts of party faithful in the State and APGA's Governorship Candidate in Ebonyi, Prof. Ben Odoh, as well as other Senatorial Candidates, notably Hon. Ifeanyi Eleje.
The APGA National Chairman commended the Ebonyi State Working Committee for their unwavering support and loyalty. He urged the SWC to organize a reorientation seminar for the State EXCOS, which comprises the SWC, LGA Chairmen, and Secretaries. The objective of the seminar is to equip party members with the necessary knowledge and skills for effective leadership and efficient party administration.
Hon. Kenechukwu Kelvin Okeh, the Honourable member representing Iza North East State Constituency in the Ebonyi State House of Assembly, actively participated in the engaging session with the Ebonyi SWC.
The APGA Ebonyi State Chairman, Chief Nwankwo, expressed gratitude on behalf of the state chapter to the National Chairman. He described Ezeokenwa as a workaholic and an uncommon National Chairman, whose visit to the APGA Ebonyi State Chapter is propitious, expedient, and auspicious. He reiterated the state chapter's unalloyed dedication and loyalty to the party.
The APGA National Chairman's visit to Ebonyi State signifies the party's effort to further strengthen its base in Ebonyi State, promoting unity and effective party administration. APGA remains committed to championing the cause of its members and working towards the betterment of the state and its people.