Uncategorized
APGA warns against fake Kano Appeal Court judgment
APGA affair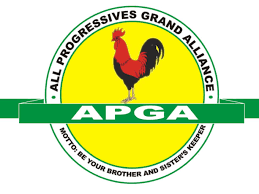 The national publicity secretary of APGA, Barr Tex Okechukwu has warned against fake Kano Appeal court judgement making the rounds on the internet.
The party said the news is fake and enjoins it's members to disregard the news.
Full detail …
Please APGA faithfuls should kindly disregard the rumour trending on the social media that the Appeal court in Kano has ruled in favor of APGA, Soludo's name to be announced by INEC and Oye Victor as the National Chairman. The news is fake and intended by mischief makers and our detractors to mesmerize APGA faithfuls because that is not the matter before the Appeal court in Kano.
TAKE NOTE that the matter before the Appeal court in Kano is whether APGA and the National Chairman Sir Victor Ike Oye would be granted the leave to appeal against the Jigawa High court judgement.
PLEASE DISREGARD ANY OTHER NEWS BECAUSE THE APPEAL COURT IS YET TO SIT AND MAKE ANY PRONOUNCEMENT ON THE SAID SUBJECT MATTER ANTE' (ABOVE)TODAY, 30TH JULY 2021.
Signed Barrister Tex Okechukwu. APGA National Publicity Secretary.