Health
ASPHDA, UNICEF call for compliance to breast milk substitute marketing code
Health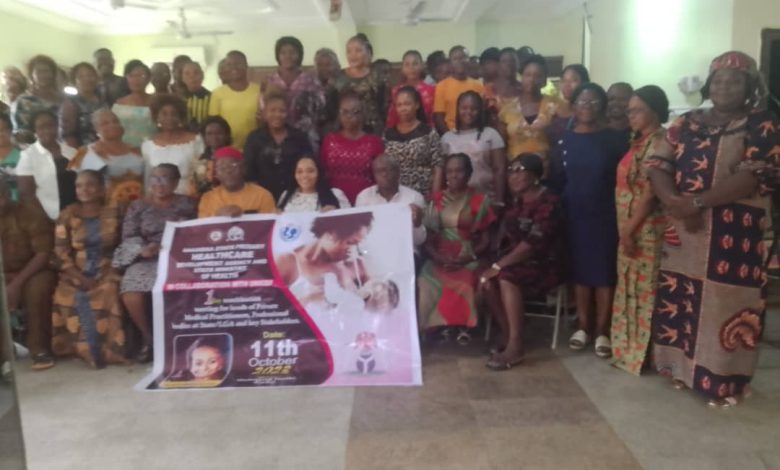 By Tony Okafor, Awka
Anambra State Primary Healtcare Development Agency ((ASPHDA) has called
for compliance to the Marketing Breast Milk Substitutes (BMS) Code.
The agency made the call on Wednesday at the one-day sensitization meeting on code of marketing on breast
milk organised with the Anambra State Ministry of Healthin in collaboration with the United Nations Children's Fund (UNICEF).
The meeting was held at QUINTANA HOTEL, Awka, Anambra State.
Speakings, the Director, Disease Control and Immunisation (DDCI), Anambra State Primary Healtcare Development Agency,Dr Placid Uliagbafusi, said the importance of appropriate infant and young child feeding and its resultant effect on national economic development would not be overemphasised.
He lamented the challenges hampering the actualisation of the code in the country.
According to him "One of such challenges is the continued violation of the International Code of Marketing of Breastmilk Substitutes (BMS)
He said,"The knowledge and lack of awareness of stakeholders have also contributed to the gravity of violations currently being practised in Nigeria.
He asked relevant authorities to aggressively address the unpleasant situation through interventions including effective sensitisation of all stakeholders.
While calling for legislations that would checkmate improper marketing of such products, Uliagbafusi
said according to the code, advertising for infant feeding products anywhere within public services was prohibited, while no contacts between company personnel and pregnant women or mothers would be expected.
He said no free samples of such products should be given to health professionals or mothers, adding that only scientific and factual information, free from commercial biases, used in the care of babies and their parents were permitted by the code.
He said," Breast-milk is the best food for the child as it prevents diarrhoea, chest pain and other diseases".
"No person shall publish or be a party to the publication of any advertisement for
breast-milk substitute or infant formula which makes any claim or suggestion that bottle-feeding is equivalent to breast-feeding."
Continuing, Uliagbafusi said, "It shall be the duty of every governmental, non-governmental or private institution or
organisation engaged directly or indirectly in health care delivery to take such measures as may encourage, promote and protect breast-feeding.
"No facility of a health care delivery system shall be used for the purpose of promoting,displaying placards, posters or materials concerning breast-milk substitute or infant formula or other products of like nature.
"No person shall manufacture for sale any breast-milk substitute or infant formula, unless the manufacture of such breast-milk substitute or infant formula complies with the standard and quality under the relevant provisions of the law.
He further said, "Every breast-milk substitute or infant formula intended for sale shall be subjectedto a satisfactory laboratory and clinical analysis by the manufacturer or distributor.
He said breast-milk substitute meant any food being marketed or otherwise represented as a partial or total replacement for breast-milk.
Speaking,the Executive Secretary Anambra state Primary Health care Development Agency, Pharmacist Chisom Uchem, enjoined the attendees to maximise the knowledge from the sensitisation meeting.
She said, The knowledge you get here you will take to grassroots. Information is very vital . Don't be distracted so that you won't misinformed the people at the grassroots. If you leave here with false information you will mislead the masses. Always send someone to this type of meetings who will represent you.
She thanked the attendees for what they had done so far, while asking them to always be in contact with their directors for for any of their needs, describing them as the channel of communication.