Human Interest
Attack on bus driver: Awka Kingmakers visit GUO, beg for forgiveness
Human interest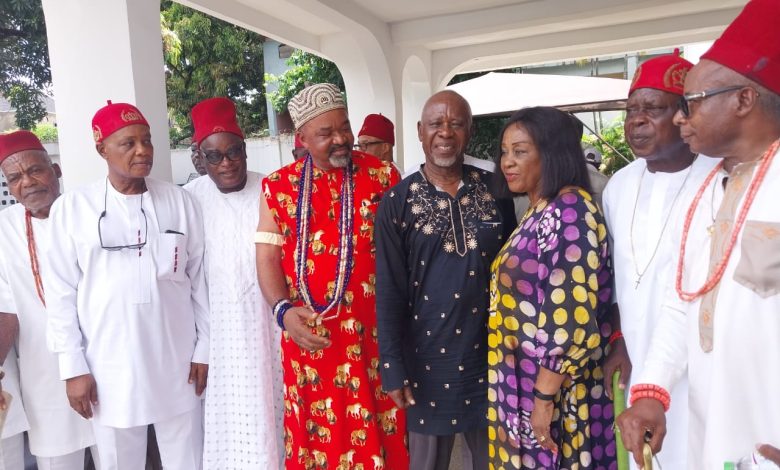 Following the assault on a bus driver with GUO Motors by Soludo's aide, Ossy Onuko, kingmakers and Ozo titled holders from Awka town (Where Onuko hails from), on Tuesday visited Chief Godwin Ubaka Okeke, Chairman/Chief Executive Officer of G. U. O. Transport Limited.
They begged him to pardon their son, Mr. Ossy Onuko, Managing Director/Chief Executive Officer of the Awka Capital Territory Development Agency, ACTDA whose escorts attached to his office reportedly battered a driver attached to G. U. O Transport Company.
Vigilante operatives acting on behalf of Onuko and men of the Nigerian Security and Civil Defence Corps, NSCDC attached to his office had last Friday descended heavily on the GUO bus driver whose name was simply given as Obum at UNIZIK Temporary Site Junction, Awka for allegedly overtaking Onuko's convoy dangerously, along the Enugu/Onitsha expressway.
The attack with machete and reported beatings whose video went viral landed the driver in the hospital where he is currently receiving treatment. The incident has also sparked outrage and condemnations in the public domain with the GUO Company issuing a statement calling out the Soludo administration over the attitude of his aides and threatening to take further actions to pursue justice.
The Awka kingmakers, numbering about 20, dressed in full white traditional chieftaincy regalia and led by Chief Austin Ndigwe, (Ike Obodo Awka) arrived Chief Okeke' s residential home at GRA Onitsha with a giant sized ram, drinks and kolanuts.
After introductions and exchange of pleasantries, Chief Ndigwe told Chief Okeke that the Awka community was in his home in full capacity to plead on behalf of their son, Ossy Onuko so that justice can be tampered with mercy.
He noted that the entire Awka community felt bad over the incident which he described as a very unfortunate one for Onuko, a young Awka citizen who has not been found wanting or associated with any social vices before now, hence the reason they decided to visit immediately to intervene and apologise on his behalf, as their son.
Specifically, Ndigwe also known as Uzu Awka, disclosed that the kingmakers had already blamed Onuko their son for his action and pleaded with Okeke to withhold all further actions in the matter because knowing his antecedent and pedigree, Onuko cannot withstand his wrath if he (Okeke) should be allowed to push the matter forward.
Three other cabinet chiefs including a former Deputy Speaker of the Anambra State House of Assembly, Chief Hon. Kene Molokwu also joined in appealing to Chief Okeke to forgive and forget, adding that they were even ready to offset the driver's hospital bills .
Responding, Chief Okeke commended them for the important visit even as he condemned the resort to brigandage and molestation meted on citizens and residents of the state by government agents in the name of revenue drive.
Okeke however informed his visitors that having retired from the company and handed over the management to his children, the matter was already beyond him as the company from Lagos office has already pushed out petition to that effect .
He also disclosed that the incident would have generated widespread protests and demonstrations because many interest groups both within the south east, other parts of Nigeria and the diaspora including USA and UK were already spoiling for a showdown if not that he prevailed on all the aggrieved to sheath their swords for now.
He also warned individuals and groups against recklessness and acts of brigandage particularly when they find themselves within the corridors of power noting that such acts has adversely affected business and the economy in Anmbra state because many doest come to Onitsha to source their goods anymore.
He stated that as a man of peace, he can make further sacrifices for peace to reign if government will do their own part.
"All I want in Anambra is peace. Once the government takes care of touts and those who brutalise the citizens so that traders can operate in a free atmosphere devoid of fear, I can agree not to push this matter further.
"If this is the sacrifice I can make, my family and my company to end molestation of people in Anambra so that people can come to Onitsha and other parts of Anambra and buy what they want without fear of attack, then I agree" Chief Okeke said.