Entertainment
Chief Louis Onwugbenu@70: A life of selflessness, enterprise and fulfilment
News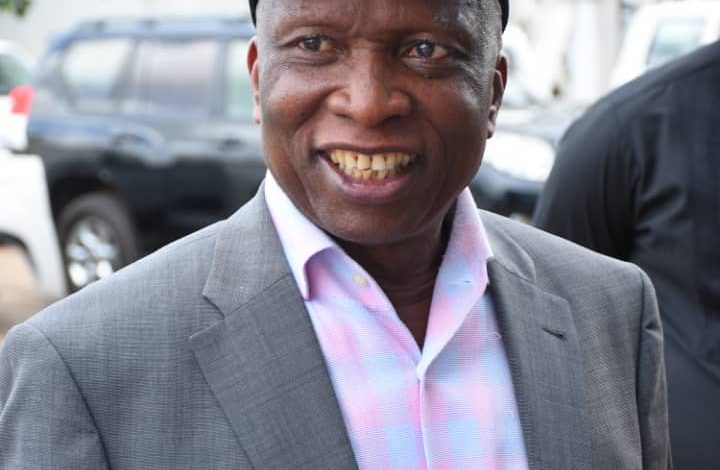 By: EMEKA OBINWA
As he clocks 70, today, Chief Louis Izuchukwu Onwugbenu, KSG, the multi-billionaire Chairman of Louis Carter conglomerate, remains one personality that is supremely and divinely moulded to conquer, no matter the circumstance.
For Chief Louis Izuchukwu Onwugbenu, and of course with his God, the word 'impossibility' is not for him. He radiates a self confidence and courageous aura that have always left his detractors or traducers at the receiving end.
Louis Carter as he is fondly called by numerous admirers, overcomes and conquers every onslaught and landmines set by adversaries to slow him down.
Despite the challenges, society watchers still place him in the bracket of first top ten billionaires produced by the famous industrial town of Nnewi, renowned for its commercial hub and industry.
His mind-blowing philanthropy that has gained tremendous momentum over the decades speaks volume of a trailer-blazer God has supremely planted for a course.
The story of Louis Carter is highly illuminating as it is intriguing, having come from a humble background.
Sir Louis Onwugbenu was born in 1953 into the family of the Late Mr. Augustine Onwugbenu and Mrs. Cecilia Onwugbenu of Ndi-Ojukwu village in Uruagu Nnewi.
His date of birth was unique, because it coincided with the Assumption date (15th August); a day regarded as sacred among Catholics, when the body and soul of Mary, the Virgin Mother of God, was assumed into the glory of heaven.
The famous Irish missionary priest Rev. Fr. Louis Kettles, who was working in Nnewi at that time was like a Prophetic Simeon who forfold the future full of hope for this new born child as he baptized him, three weeks later (13th September, 1953) and gave him the name Louis.
The memory of this famous missionary inspires Chief Louis Izuchukwu Onwugbenu till today.
When the young Louis came of age, he was enrolled at St. Philip's (Ezeagaba) Nursery and Primary School, Okpunoeze, Uruagu and subsequently had primary education at St. John of the Cross Primary School Egbo, Uruagu, Nnewi.
He was quite a brilliant young lad, intelligent and smart. This was evident while he was fielding questions during catechism classes which led to his qualification for the reception of First Holy Communion and Confirmation at a very tender age.
He subsequently became a Mass sever (Alter Boy) serving both the Irish and indigenous priests at the time. Among the Reverend Fathers that he worked closely with were Reverend Fathers, Duncan, Baylon and Basil Onwuasomba respectively.
After the civil war, Louis confirmed to serve in the mission under the then parish Priest, Rev. Fr. B.C Onwuasomba who contributed immensely to what Louis is today.
His quest to draw his academic career to its logical conclusion was, however, truncated midway in his secondary school due to the prevailing economic, political and social factors at that time, including the Nigerian Civil war of 1967 to 1970.
After the war in 1970, the horrible experiences some teenagers of his age had during the war discouraged them from furthering their education.
Rather than being dejected and despondent by the unpleasant turn of events, which really gave him little or no chance to activate his intellectual potentialities, he became more positively encouraged and took the bull by the horns.
He rapidly understudied the auto parts business through close interaction with friends and cousins who were already doing well in auto parts business. As an apprentice, he slept in the shop with his colleagues and it was there he joined Block Rosary.
In 1972, Louis launched himself into the world of business. His line of business then was servicing auto spare parts, like plugs, filters, bolts and nuts and later graduated to selling pistons, engine blocks top gaskets among others which today are the predominant trade of Nnewi people.
The initial start-up capital was provided from the little savings of his hard-working parents who were still into red oil milling. This initial capital was meager compared with what the motor spare parts demanded. But Louis was never intimidated or dissuade from venturing into business. His prayerful life and closeness to God gave him good energy and great motivation to succeed. He would pray assiduously every morning, play Christian music before setting out for the day on a high positive spirit.
He had the conviction that God's grace was with him and that he was born to win, so the world was at his feet to explore, exploit and conquer. He usually played Jimmy Cliff's track "Born to Win" as a motivating music to keep him focused in his activities.
Between 1973 and 1976, Louis had already started distinguishing himself in the business world, shuttling to and from Lagos two or three times a week in order to buy and sell his goods. Louis watch words were honesty, hard-work and determination; the qualities earned him the favour of many who came in contact with him.
Gradually but steadily, the business began to flourish, Hence, the young Carter expanded and diversified the frontier into other lines of trade that much later metamorphosed into manufacturing Agriculture, Food Processing, Estate Management and General Merchandise.
Like a divine providence, what he lost academically, he gained handsomely in business
By1977, Louis was already longing for a life partner. The yearning of Louis' heart later found its satisfaction in the home of Sir Anthony and Lady Roseline Ojukwu, the then Catechist of St. John Cross Egbo, Uruagu, Nnewi, where Louis mother's eagle eye captured the Central Catechist daughter Pat, in the humble family and would not opt for any other but her.
God approved of this proposal and both were joined in marriage on the 21st day of October, 1978.
The marriage is blessed with 2 boys, 6 girls and over 14 grandchildren.
With the marriage blissfully progressing, Louis pursued his ambition with high determination. He was touring the world, searching for and indeed grabbing business opportunities. Today, Louis Carter is solidly established globally. It was at this stage also that Louis rooted home in Nigeria, the subsidiary companies that sum up "THE LOUIS CARTER GROUP CONGLEMORATE". So in the game of business, Louis is a utility player, combining very beautifully, sharp thinking and swift execution of ideas.
As his business grew, even when he was under thirty, he surprised many with his big heart for philanthropy when he undertook one of the four endowment projects of the University Teaching Hospital for then Anambra State University of Science and Technology (ASUTECH). The impact of these endowment projects catalyzed the University upgrading by then military Head of State, General Ibrahim Badamosi Babagida, to a Federal University in 1991.
Louis felt happy with the success and developments orchestrated by the project (he was one of the four foremost Nnewi Billionaires who undertook the gigantic projects) this spurred him on to more philanthropic acts to humanity. Chief Louis has settled hospital bills for more than seven indigent parents of quadruplets and quintuplet children adopted and offered them scholarships from nursery to University levels, as well as many other families who were in need. He has trained and continued to train children of the poor, to University level, Priests and Religious men and women in addition to the houses he built houses for the homeless. Every 15th August and 24th December, he gives out aids to assist people celebrate the birthday and season.
To commemorate his 50th birthday celebration and 25th years wedding anniversary, he had built and handed over to the Catholic Diocese of Nnewi, the Church building, the St. Louis Catholic Church, Father's house, Church Hall and Chapel of Adoration (Built in memory of his late parents, Late Augustine and Cecilia Onwugbenu).
It is worthy of note that the renaming of the church building to St. Louis was at the instance of the then Catholic Bishop of Nnewi Diocese, His Lordship, Most Rev. Dr. Hillary Odili Okeke, who got the clearance from the Catholic Pontiff to rename the parish from St. Bartholomew Parish to St. Louis Parish, only a few days to the dedication of the church building. He also built multi storey structures for Nursery, Primary and Secondary schools at St. Louis Catholic Church premises that are managed by the Catholic Diocese of Nnewi.
On the 15th day of August, 2013 during his 60th birthday celebration, he got an inspiration to float a foundation that will wipe tears away from underprivileged families. For the passion he has for education, Chief Louis Izuchukwu Onwugbenu founded the LOUIS CARTER FOUNDATION to alleviate the suffering of the less privileged in our society and provide support in human capacity development, skills acquisition and empowerment to youths. From the inception of the foundation in 2013 till this very day, thousands of students are beneficiaries of Chief Sir Louis Carter Onwugbenu foundation both in Secondary School and Universities within Nigeria and beyond respectively. Some have graduated and are gainfully employed. Despite the economic meltdown in the country, Okpata Ozua Ora Nnewi kept adding more students annually to the foundation. As Louis turns 70 today, and in line with his passion for education , he proposes to establish an Ultra-modern University in collaboration with foreign partners from world class Ivy league schools in Canada and America to bridge the educational gap in Nigerian Schools. Chief Louis Carter Onwugbenu believes that on completion and commencement, the objectives for the establishment of the schools will impact positively on our communities and by extension the underprivileged youths who are brilliant will have the opportunity to further their studies abroad through this collaboration and his scholarship scheme. Louis Carter has given hope to numerous students in Anambra State. His generosity knows no bound. His kindness and generosity earned him the well-deserved sobriquet "OKPATA OZUA ORA NNEWI". (His Wealth touches all)
Today, as he marks his 70th birthday anniversary, Louis Carter will sponsor all the Block Rosary Centers in the Catholic Diocese of Nnewi made up of more than 5000 young children of God. There will also be the presence of over 2000 Charity and destitute homes at the occasion billed at St. John of the Cross Catholic Church, Egbo-Uruagu Nnewi. The event will also witness the presentation of purses to the various Block Rosary groups and the Charity homes.
Despite his absence at the celebration, the celebrant has pulled all strings to make his 70th birthday a memorable one for guests. There will be quiz and cultural competitions among the zones and various prizes to be won to encourage them because that was how he started his life.
One would rightly say that Chief Louis Izuchukwu Onwugbenu is a child of destiny. His meteoric rise and remarkable business accomplishments are not without challenges. But he would always surmount and overcome.
The turning point in his life was on April 10, 2020, (Good Friday) when Chief Louis Izuchukwu Onwugbenu and his family members had close shave with death when they were hit by the deadly Covid-19 Pandemic. As he was being rushed into the Intensive Care Unit of the Reston Hospital Center in the United States, his last daughter was already in critical condition but God's grace and intervention prevailed and they survived the scare.
To Chief Louis Izuchukwu Onwugbenu, if the family could survive the dreaded Covid-19 Pandemic, then he remains indestructible in the sight of man. Despite intrigues by his detractors to ruin his business, the calm looking Chief Louis Izuchukwu Onwugbenu remains unruffled and unperturbed, knowing well that God has control over his life.
He still continues to count his blessings as a man "BORN TO WIN".
EMEKA OBINWA
Veteran Journalist and Analyst.