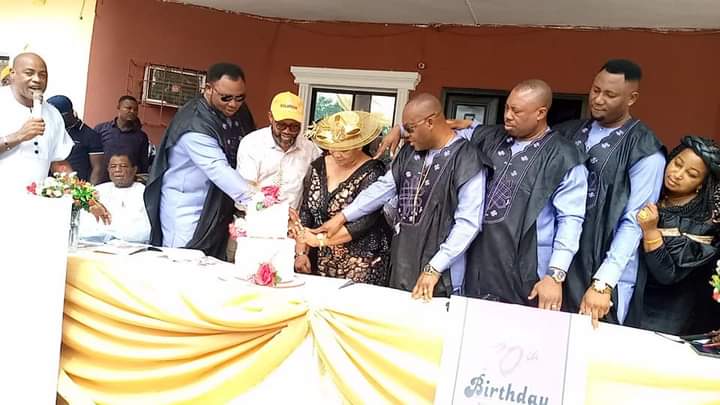 Children of late Bishop Arthur Nwachukwu, the founder of Rhema Deliverance Mission have celebrated their mother, Mrs Patricia Okwukweka Nwachukwu on her 70th birthday.
Bishop Arthur Nwachukwu was buried last year in a carnival-like ceremony, organized by his children, who are also pastors in various branches of Rhema Deliverance Mission across the country.
On Tuesday, the children, five men and a lady again held a lavish birthday celebration for their mother, with various testimonies of her contributions in their lives and growth in their various careers.
They presented a brand new Toyota Prado Jeep to their mother as a birthday present.
One of the children, Dr Amaechi Nwachukwu, a famous orthopedic surgeon and the Chief Medical Director of Princeton Orthopedic Hospital, Awka and a pastor in the Awka branch of Rhema also testified to his mum's strength of character.
He wrote: "Mummy General is 70years old. Without her, the story of Rhema Church Worldwide wouldn't have been this interesting.
"She is the backbone of what Rhema has achieved in Nigeria and beyond. Her faith in Christ and her strength like that of a stallion made the journey so easy for those around her.
Happy birthday to my mother, a woman of God who has fought and is still contending for the faith once delivered unto the saints. Many happy returns, lovely mummy!!!!"
Another of her son, Prophet Ejike Nwachukwu, who overseas the Nnewi branch of Rhema Deliverance Mission also wrote: "We celebrated the 70th birthday of our mother yesterday (Tuesday).
"She is a complete reflection of biblical virtuous woman. We her children said a big thank you to her for her impact in our lives.
"Once again happy birthday mum, you deserve a Jet according to the Deputy Governor of Anambra (Dr Onyekachi Ibezim) but let's start with Prado Jeep."
The colourful event was attended by members of Rhema Deliverance Mission across the country, several dignitaries, especially in Anambra State, including Deputy Governor of Anambra State, Dr Onyekachi Ibezim, Speaker of Anambra State House of Assembly, Rt Hon Uchenna Okafor, and many others were in attendance.
Highlight of the event was the presentation of the brand new Toyota Prado Jeep acquired by her children to her.