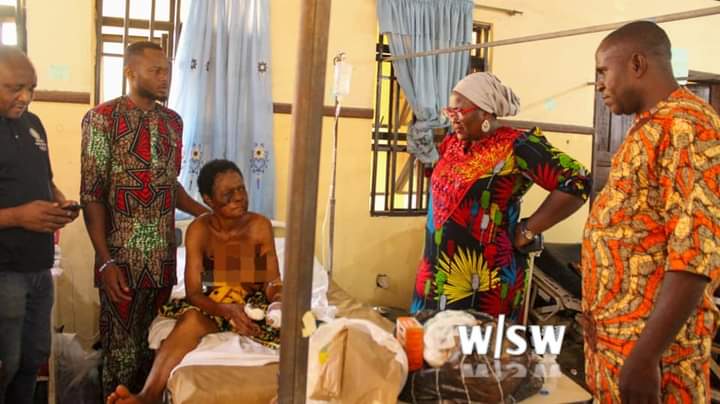 A domestic help, who's name was given as Onyebuchi Ezeh has harvested the genitals of a 72 years old woman, including other parts of her body for purposes of money ritual.
Ezeh who was later caught had confessed that he and some friends did it on the instruction of a native doctor, who had promised to make them rich if they brought the required items.
It was gathered that the incident happened in Umunze, Orumba North Local Government Area, within the week, and that the aged woman was rescued by neighbours, who later took her to the hospital.
Media assistant to the commissioner for women affairs and social welfare, Miss Chidinma Ikeanyionwu who disclosed this said the victim was recuperating at the Chukwuemeka Odumegwu Ojukwu University, where the commissioner, Mrs Ify Obinabo visited her.
Ikeanyionwu said: "The incident was discovered after the survivor raised alarm on Thursday. One of her workers alongside two other men stampeded her in her house and cut off her genital organs including nipple, ear, fingers among others.
"The culprit by name Onyebuchi Ezeh who was later caught, confessed that they were sent by a native doctor to get the needed organs of the 72 year old in order to become billionaires.
"The culprit hails from Abakaliki in Ebonyi state, and usually helps the victim in cutting palm-trees. He was said to have explained that they embarked on the act because they wanted to get rich according to the assurances of the native doctor," Ikeanyionwu said.
She also quoted Hon Obinabo as expressing sadness over the development, while assuring her that other persons involved in the crime would also be apprehended and charged to court.
The culprit is said to be currently held at the State Criminal Investigative Department of the Anambra State Police Command Awka and will soon to be arraigned before the Children and Gender Based Violence Magistrate Court in Awka, soon.