Education
FCET Umunze Stike: Management, Lecturers Continue Dispute over Unpaid Allowances
Education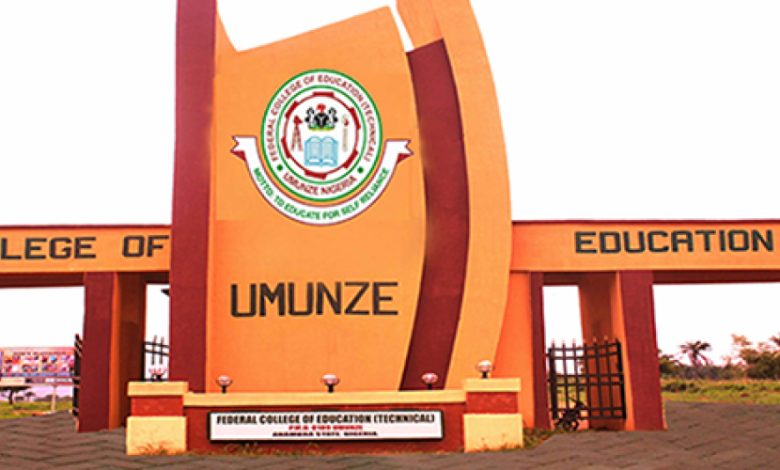 The management and academic staff of the Federal College of Education, Umunze have continued their dispute over the declaration of strike in the institution by its lecturers, led by Dr Churchill Okonkwo.
Okonkwo, chairman of College of Education Academic Staff Union (COEASU), Umunze chapter had last Tuesday announced a three weeks strike, after a crucial meeting of the body.
But the management of the institution, led by the provost of the college, Dr Tessy Okoli has insisted that there is no strike in the institution.
A press release by the college PRO, Mr Sam Otti stated that some lecturers of the institution have disassociated themselves from the three weeks warning strike.
He quoted some of the lecturers that spoke on Monday on the strike, including Chief Lecturers, Heads of Departments and others as denying any strike in the College and distanced themselves from surreptitious attempt to discredit the College Management and plunge the institution into crisis.
In the press release, Otti quoted the Chief Lecturer and member of the College Academic Board, Dr Nwike Matthew as saying that College Management has made genuine efforts to clear backlog of allowances, including 14 months salary arrears inherited from the previous administration.
He expressed disappointment that despite appeals to the leadership of COEASU to understand the financial state of the College, they demanded for immediate payment of Teaching Practice Mobilisation.
"I do not believe that compelling the College Management to borrow money to make a non-statutory payment is the right approach. Since the College Management pleaded for understanding and patience from the union, my colleagues should have taken the Management by her words," he said.
Other lecturers, including; Mr Kenechukwu Agajelu of the Political Science Department, The Head of Department, Education Foundation, Dr Jideofo Ezewuzie, Delphine Emere of Home Economics Department were also quoted as speaking against the strike.
But the chairman of COEASU, Dr Okonkwo insisted that the strike has long commenced, and that academic activities have been grounded in the institution.
In a press release, he said: "The Strike has not been called off. Any staff participating in any examination will be penalised the union way. COEASU Exco will intensify their monitoring exercises to ensure total compliance.
"Any staff that was harassed or intimidated by any management staff should quickly report to the Exco. If you're given query for demanding your rights please happily collect it and forward to the Chapter executive Council who will give you all the necessary support," he charged lecturers.
Meanwhile, Okonkwo disclosed that some of the members of the union were being coerced to return to the institution to supervise exams, saying that management as a result of refusal by lecturers to comply has resolved to use members of non academic staff to supervise exams in the institution.
"But you know that it can not work. Every exam that is not supervised by the lecturers of the institution has integrity question. It can not stand.
"We are using this opportunity to alert parents that there are no academic activities going on in the institution now. It is not wise to leave the students in the school."