Sports
Foundation visits ailing ex-Rangers' player after Therazornews report
Sports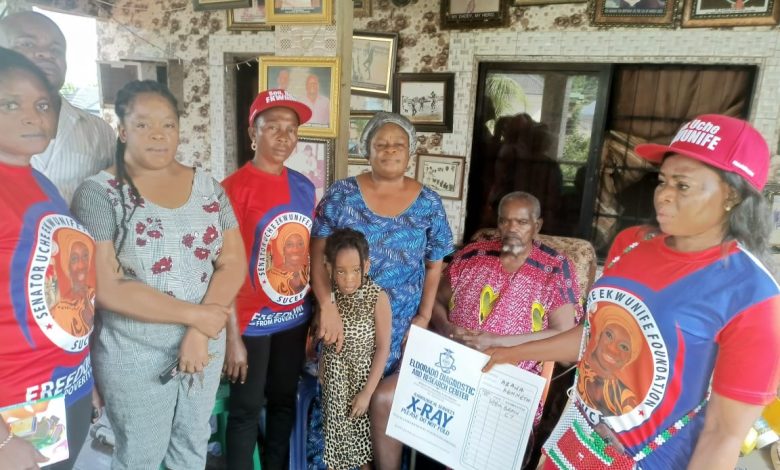 Tony Okafor, Awka
Senator Uche Ekwunife Foundation has visited a 73- year-old ex-Rangers' player, Kenneth Abana, who reportedly suffered a partial stroke recently.
This came some days after the foundation enquired from one of Editors how to get across Abana after our report about his emergency hospital admission in Awka, the Anambra State capital.
In a statement made available to our correspondent on Tuesday, the foundation said, "Ekwunife's foundation gave Mr. Kenneth Abana, an ex-old Rangers International Footballer a surprise health visit. The delegation brought words of encouragement and words of assurance to him.
"The wife of Mr. Kenneth Abana, in a joyous mood of gratitude said, 'God will bless Iyom( Senator Uche Ekwunife) in ten-folds since she keeps remembering those in need."
"She went further thanking Senator Uche Ekwunife's Foundation for making themselves available for humanitarian service and for the genuine concern in their faces.
According to the statement, "The foundation is being sponsored by Senator Uche Ekwunife and she is using the foundation as an instrument of relief to the indigent and needy, adding, "The foundation is an extension of a part of her that longs deeply for the alleviation of people's suffering, the igniting of a spark of hope and the actualization of the glorious future that the people desire.
"Health is paramount' and the foundation understands that. That's the reason they keep identifying those in various communities who are in need of succour.
Speaking sympathetically of the ex footballer's condition, the foundation said it would be ready to offer any help it could to assist him, adding, "Senator Uche Ekwunife and the foundation understand and appreciate Mr. Abana's contribution to sports and the talents he influenced and that's why they want to prove that a good turn deserves another. This would also encourage people to contribute their bits to the society because it won't go unrewarded."