Politics
Good president most important desire to Nigerians now- Umeh
Politics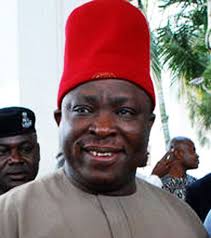 By Nwafor Okafor,Awka
A former National Chairman of the All Progressives Grand Alliance ( APGA) and the 2023 Senatorial candidate of the Labour Party(LP) in Anambra Anambra Central Senatorial District, Chief Victor Umeh, has said the most important desire to Nigerians now is to have a good president that will pilot the affairs of country effectively and capably.
Umeh stated this while receiving his certificate of return from the LP leadership at the weekend.
He said the presidential candidate of the LP, Mr Peter Obi, possessed all the qualities needed now to revive the country, stating that was why he joined him in the Labour Party to advance the cause of good governance for Nigerians.
He said, " I so much believe in him(Obi) because he has all it takes to perform this duty excellently.
" A good president is the most important thing to Nigerians now. I had to join him(Obi) and go round Nigeria to ensure he becomes the next president of Nigeria. Labour Party is the vehicle that is offering Nigerians this opportunity they so desired . I joined the party to support a visionary leader( Obi)
Speaking, the LP national chairman, Julius Abure, said the combination of Peter Obi and Victor Umeh in the race showed better beginning for the party and Nigerians in the 2023 elections.
Meanwhile, Obi, who had earlier collected his certificate of return from the party at the weekend has described as laughable to hear some people say he has no structure to win the 2023 presidential poll.
He said,"The 100 million hungry Nigerians are my structure. The 35 million jobless Nigerians and their aged parents and guardiand who are owed pension and gratuities are my structure. ASUU and students at home will be my structure."
A social commentator, Jude Obiora, has described the widespread Support for for Obi's presidential race across the country as political Tsunami.
Obiora said,"Anyone who doesn't take this Obi thing seriously now may be shooting themselves in the foot. This whole thing is assuming stupendous proportions far beyond what Peter ever imagined and to think that the tsunami is only gathering strength. What happens between now and election time can only be imagined."