Politics
I Must be President of Nig, I'm Convinced in My Spirit – Obi
Politics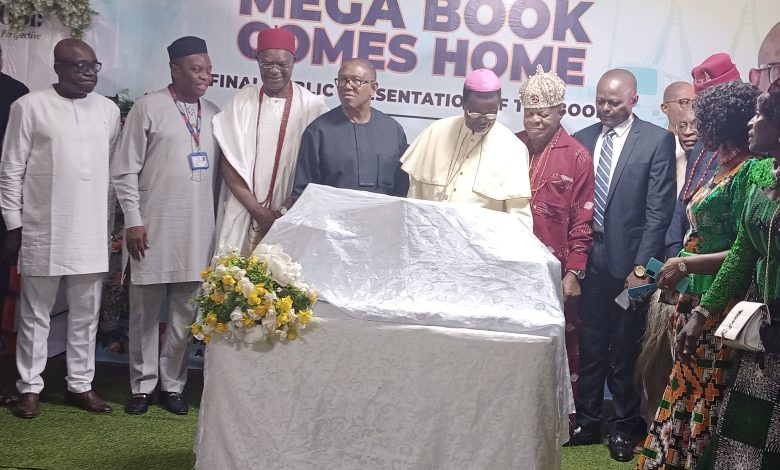 ~ Obi not new to challenging flawed elections – Igwe Achebe
By Ifeizu Joe
Former Anambra State governor, and presidential candidate of Labour Party (LP) in the last election has stated that he must be president of Nigeria. He said he was sure in his spirit.
The Independent National Electoral Commission (INEC) had in the February 25 election declared the candidate of the All Progressives Congress (APC), Asiwaju Bola Tinubu as winner of the election, but Obi move to the court to challenge the election result.
Obi who spoke during the third and final launch of a book written in his honour; Peter Obi: Many Voices, One Perspective, which took place in Awka, stayed that he was more concerned about the process that brings leaders to office, and not who the leader is.
Obi said: "For three years I was in court in Anambra to reclaim my governorship, just to challenge the process. Many people tried to discourage me, but I said even if the entire four years tenure elapsed for us to prove a point and correct the process, I will be fulfilled.
"My argument is that, let's do what is right. I always tell everyone that I will not give people money to do the wrong thing. I have been the chairman of a committee; TETFUND committee, and Prof Mahmud was my member. We know ourselves, but when he became INEC chairman, I have never met him. I told him, you're an umpire, just do what is right.
"If you have the chance to do the right thing, and you insist on perpetuating anarchy, then, it will consume everybody one day. I insist that we must do the right thing.
"I was in an event yesterday in Abuja, and it was World Food Organisation. I listened to report that stated that Nigeria will face intense hunger in years to come. It is Nigeria that will face hunger, not Peter Obi. The report listed Borno, Adamawa and Yobe as the states that will be worse hit, but those three states put together are five times larger in land mass of Israel, yet Egypt exports food, but Nigeria can not feed itself.
"So we must cultivate a habit of doing the right thing. If we don't do the right thing, it will consume us some day."
Speaking about his quest to be president of Nigeria, Obi said: "Anyone who thinks I'm on transit is wasting his time. Let me tell you, I must be the president of this country. I'm sure of that. If it is not today, it must be tomorrow.
"Other people who want to be, should come and tell us what they want to do, and how to do it. This is my country, I don't have dual citizenship. If anyone thinks I am going to run away from Nigeria, they are lying. I have three engagements in Anambra and Lagos today. I will be speaking in Lagos tonight. We will not leave Nigeria. I am not in a hurry to become the president, but I know it must happen."
The chairman of the occasion and traditional ruler of Onitsha- Kingdom, Obi Alfred Nnaemeka Achebe in his speech expressed hope that Obi will reclaim presidential mandate.
Achebe gave instance of some troubles that Obi had encounter in his life saying: "I was still a new traditional ruler many years ago, when I was invited to a meeting where some monarchs were trying to settle a matter between then governor Chris Ngige and Obi over the governorship tussle.
"I was a new traditional ruler, so I was just listening to the conversations. Obi did not attend the meeting, but his representative said Obi sent a message that he is more interested about knowing the truth, and ensuring that the process is credible next time, and that he was not willing to back down, even if it meant remaining in court even after the tenure.
"It took him three years, but he was later restored. His representative then said, Obi only wants the truth to be known, and even if it happened after the expiration of his tenure. Also, when he was impeached, he told everyone that he would return, and he returned.
"Later, there was an election, and Andy Uba replaced Obi. He called me again and said that this people want to spoil our country. I had also heard that the judgement was to be delivered the next day, and that it may be against Peter. He (Obi) called me and he said he was confident that he would return as governor. I'm saying this because this is a man I know very well. Someone called him man of the moment, but I choose to say that he is a man of destiny."
Earlier, one of the editors of the book, Prof Chinyere Okunna said the launching was geared towards raising funds for the financing of the matter before the Presidential Election Petition Tribunal (PEPT).
"We believe in Obi. He is not a saint, but among all the people who contested to become president, none comes close to him in humility, education, love of the people, experience and knowledge.
"Litigation is a very capital intensive projects and we want to support him through this launching. It was very clear that Obi won the election, but we want to call on the judiciary to be upright in their judgement and do the right thing."