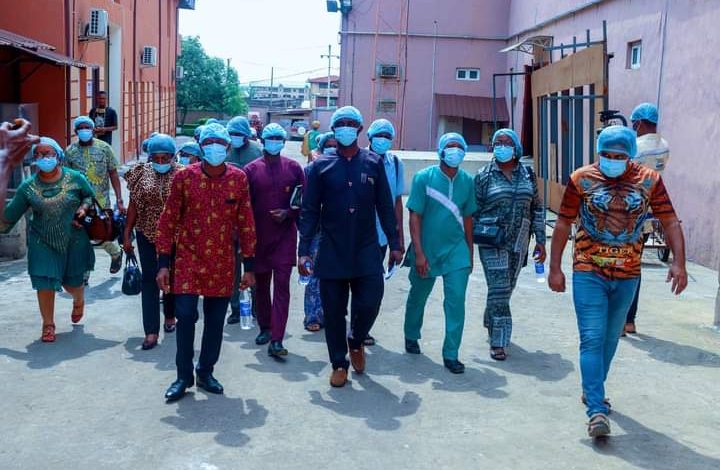 By Dr Njide Ezeonyejiaku
The call for Nigeria to transit from consumption to production economy is yielding positive results as Tiger Foods Ltd, Onitsha, Anambra State, Nigeria has continued to defy all odds to advance steadily in their product lines.
Speaking to some members of the Nigeria Union of Journalists, NUJ, Anambra State Council who were on a facility tour to the Company, the Managing Director, Tiger Foods Ltd, Mr. Don Ebubogu stated that the company blends contemporary and local materials to produce local taste that can appeal to both local continental customers.
He noted that the company is motivated by the passion for healthy foods to produce a range of spices, seasonings and drinks such as ginger, garlic, thyme and currie powder; tomato mix, and mayonnaise.
Other products in the line of beverages and herbs such as soft drinks, energy, alcoholic, and spirit including Tiger energy drink, Nine herbal drinks
among others.
He explained that the company has metamorphosed from their mother's Mama Put business in Port Harcourt to become one of the leading indigenous food processing and beverage company in Nigeria.
Mr. Ebubogu noted that despite the daunting challenges facing production in Nigeria such as power supply, his company chose to look more at the enormous gains in the Southeast Nigeria.
According to Mr. Ebubogu, watching over 80% of fully loaded trucks coming into the Southeast from Bridge Head, Onitsha daily and going back empty should open the eyes of people to realise the gap that should be explored to enhance the economy of the State in particular and Nigeria at large.
"We want to produce goods that can be taken outside the Southeast to other parts of Nigeria and beyond, but we are challenged by a lack of skilled work force. We are hoping that the 1 Youth 2 Skills initiative of Governor Soludo administration will produce more skilled workforce that can assist us with the staff strength of over 800 persons already in our employ", he said.
Continuing, Mr. Ebubogu stated that the company does not only demonstrate humanity and safety consciousness in our production strategy, we try to make each staff member to be happy and have a sense of belonging by contributing to pension scheme of 12% where the staff contribute 5% and the company contributes 7% in order to save for the future.
The Tiger Foods Boss explained that their products are exported to Ghana and other West African countries and they are currently making in-road to Europe, pointing out that the company is pleased to partner the NUJ, Anambra State Council for their role in sensitising citizens about the need to make valuable contributions for the good of the society.
Mr. Ebubogu who is a trained food technologist from the Institute of Food Technology, Chicago, United States of America, is also a member of the American Institute of Baking, Manhattan; member, American Spice Trade Association, Washington DC; member, Nigerian Herbs and Spices Association; as well as a Council member of Onitsha Chamber of Commerce, Industry, Mines and Agriculture, ONICCIMA.
In a remark, the Chairman, NUJ Press Week 2023 Planning committee, Dr. Njide Ezeonyejiaku expressed gratitude to the Management of Tiger Foods for opening their doors to the NUJ to interact with them as part of the activities marking the Press Week which she said is a forum for Journalists to interact with different segments of the society, celebrate Journalists and remind them of their roles and responsibilities to the society.
The Chairman, NUJ Anambra State Council, Dr. Odogwu Emeka Odogwu in a vote of thanks commended the Managing Director of Tiger Foods Ltd, Mr. Don Ebubogu for the courage to forge ahead while many companies are becoming moribund due to severe challenges.
Dr. Odogwu noted that the NUJ Anambra State Council decided to visit Tiger Foods to promote the company that has been adding enormous value to Anambra State economy and reducing youth unemployment and urged the management to keep up the good work.
Highlights of the visit were a tour of the facility and an interactive session with the MD, Tiger Foods Ltd.