Politics
Ligation: You're a dogged fighter without violence, Umeh tells Obi
Politics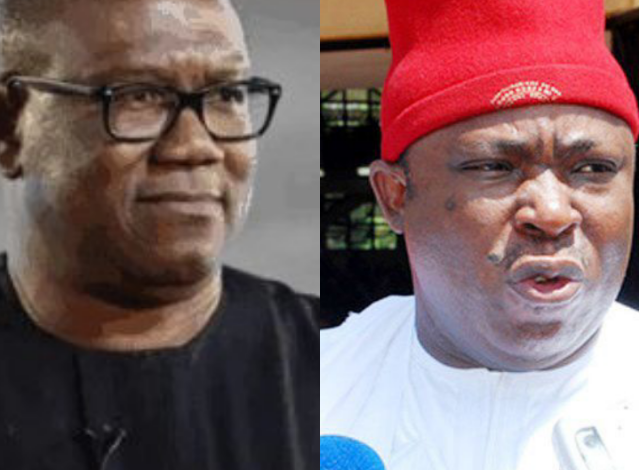 By Our correspondent
Senator representing Anambra Central Senatorial district, Chief Victor Umeh has praised Labour Party's (LP) Presidential Candidate, Mr. Peter Obi over his decision to appeal his case at the Supreme Court.
He described Obi as a dogged politician without violent and desperate disposition, urging Nigerians to keep faith with him.
Umeh who was reacting to Presidential Election Petition Tribunal judgement, expressed confidence in the judiciary, despite unfavourable outcome at the tribunal.
He acknowledged impossibility of importing justices from heaven for Supreme Court to adjudicate over appeals that would arise from PEPT judgement, but insisted it was necessary the process was followed to the later.
He said, "The election has a process, including campaigns, actual election, declaration of the results, and the judicial adjudication. Anyone who feels unsatisfied will go to the court to challenge the outcome.
"This week witnessed several judgements across Nigeria. The PEPT delivered its own judgement on Wednesday. The petitioners are assessing the judgements. Anyone who finds any hole has the right to go to supreme Court.
"The truth is that you can't abridge anybody's right to go and ventilate his grievances in court. The petitioners will decide on the next line of action.
"Our own candidate, Mr. Peter Obi has decided to go to the Supreme Court. We won't go to heaven to bring justices at the Supreme Court to come adjudicate over the appeals that will arise from judgements of the Presidential Election Tribunal.
"But we must keep faith with the process we have. Nobody can prejudge what the Supreme Court will do. I must commend my own brother for his tenacity and the spirit of non-violence; he won't do anything to diminish the integrity of democracy. Even with the judgement delivered dismissing his petition, he's not desperate.
"He's someone I've worked with; he's not a new person in this process. I've gone through this route with him since 2001. We went through all kinds of formidable challenges to get him become Anambra State Governor after three years in the tribunal, eventually he prevailed.
"He told me he will go and test the process at the Supreme Court. It's his constitutional rights. We'll continue to pray and wish him well."
Umeh however noted it was high time politicians placed credible electoral process above election victory, which he stressed was critical to democratic growth and development.
"What's important for Nigeria is no matter who wins, let's think about this country and processes of creating our leadership. It's far more fundamental than victory anybody can take away.
"Let's establish a standard where election will be transparent and credible, and after announcement of results, whoever loses will go home and congratulate the winner.
"Let the process not be subverted, with people taking advantage of another yet expect democracy to grow. We want a democracy our people will have confidence in, not even waiting on the courts over election disputes," he said.