News
LP's Umeh condoles Amechi's family, says, Ex-Minister lived life of dignity
Condolences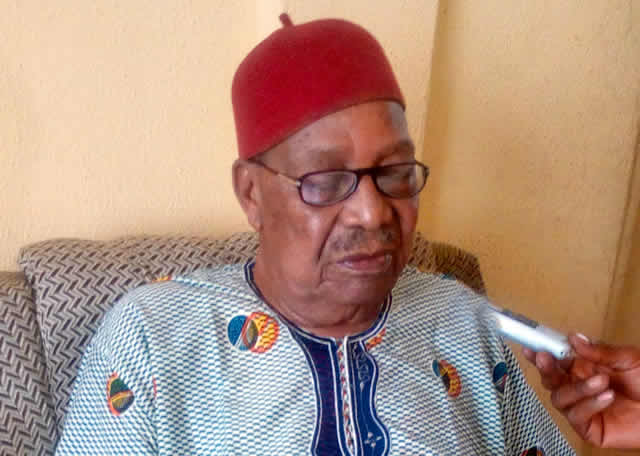 By Esindu Jacobs
The Labour Party, LP candidate for Anambra Senatorial zone, Senator Victor Umeh, had condoled with the family of Chief Mbazulike Amechi , on the death of the elderstatesman.
The former National Chairman of the All Progressives Grand Alliance APGA, described the ex- Minister as a man who lived a life of dignity and self respect
The first Nigeria's Aviation Minister, Amechi, died on Tuesday, November 1st, at the age of 93.
In his message, made available to The Razor in Awka, Umeh, said he was pained because Ndigbo and indeed, Nigeria have lost another strong voice in the society .
Umeh, who is gunning for the 2023 senatorial seat on the platform of LP, sais," I received with sadness the News of the death of Pa Mbazulike Amaechi ( Dara Akunwafor ) of Ukpor more popularly known as the Boy is Good!
"Chief Mbazulike Amaechi became the Minister of Aviation of the Federal Republic of Nigeria at the young age of 31 years.
"Dying at the age of 93 years, one would have felt that he has lived long enough, knowing that he was privileged to have attained that Age.
"However, I was sad because, Chief Amaechi lived a life of dignity and self respect!
"He was not a gratuitous Politician!
He was modest and remained committed to the Legacies of the Late Rt Hon Dr Anambra Azikiwe, the Great Owelle of Onitsha.
"He did not use the Opportunities available to him right from the First Republic to acquire primitive Wealth.
"Chief Mbazulike Amaechi, though a Nationalist, was a Patriotic Igboman and remained on the side of his people till death!
"Despite his long standing Political Influence, he never talked down on his people!
Each time I received a Call from him, I got overwhelmed by his simplicity!
"He was an Elder Statesman per Excellence.
"Dying on the 1st Day of November, on the Solemnity of the Feast of All Saints, Chief Amaechi has transited gloriously and has joined the Saints Triumphant after a humble, but noble fulfilled life here on Earth.
"I know that he left Nigeria without achieving a peaceful and prosperous Country that he yearned and worked for, just like some of his Compatriots that have gone before him, but he surely contributed vocally to the pursuit of justice for all people of Nigeria and particularly the Oppressed!
"The Igbo people and indeed Nigeria have lost a great Man and may his beliefs and toils for a greater Humanity not be in vain!
"One of the Pillars of the Independence Struggle for Nigeria, his death is gradually drawing the curtain to a close on those who gallantly fought for the Independence of Nigeria.
"May the Almighty God keep the Likes of Pa Ayo Adebanjo and Pa Edwin Clarke much more longer for us!
"My Condolences go to the members of the Amaechi Family and all of us" he wrote.