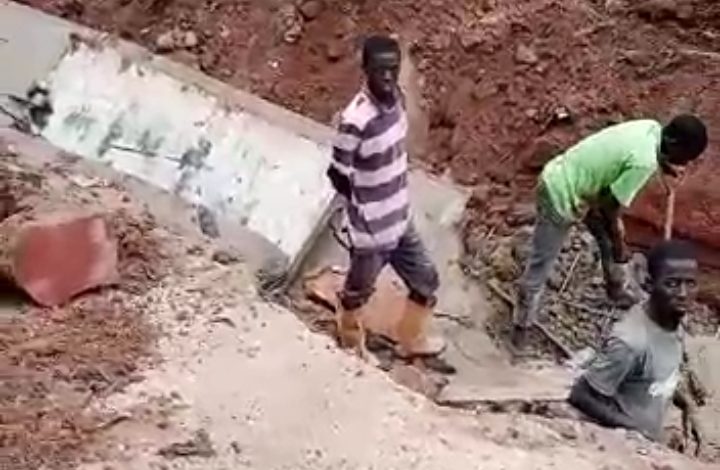 By Ifeizu Joe
There is currently mixed reactions about the collapse of a drainage channel being built by Anambra State governor, Prof Chukwuma Soludo.
The drainage channel, which is located at Niger Street in Onitsha, reportedly collapsed on Thursday evening, when it was subjected to heavy rainfall.
A video of the collapsed drainage, which has been circulating on social media, showed the channel, with a citizen of the state, who ran commentary on the video, describing the work as substandard.
The individual in the video said: "Look at the kind of road that Soludo is building for us, just one rainfall in Onitsha, and the road has been washed off, while the drainage collapsed.
"It is this same Soludo that wrote a very long letter against Peter Obi, saying he will not keep quiet while history beckons. Is this how he will turn Anambra into Dubai Taiwan? Just see the road, is just red earth, no cement at all."
Other residents of the state also made derogatory remarks about the road and the accompanying drainage.
But some people have also defended the governor on the project, insisting that the rains came down unannounced, on the same date that the work was done.
Nkemjika Nwanolue said: "The contractor is still on site, and no one has declared that project completed. The concrete cast takes a minimum of 7 days to cure and about 21 days to fully stabilize.
"That very gutter on Niger Street had neither cured nor stabilized before the rains of that very day, and anyone who knows Onitsha knows the volume of flood that greets every rainfall. The contractor, even from that very video recording, is still very much on site.
"Dubai as it is today did not happen in 13 month (Soludo has spent 13 months in office) and certainly not with the kind of bitter soul that made that video. Soludo is very much on course and will never be distracted by the tantrums of politically bitter people."
Meanwhile, the state commissioner for works has visited the area. Mr Chidiebele Obika, an appointee of the state government stated this to THE RAZOR.
He said: "Anambra State Commissioner for Works, Engineer Ifeanyi Okeoma, team of engineers from the Ministry and TEC Engineering officials are here at Niger Street, Fegge Onitsha to inspect level of work on the stretch and witness first hand the effects of yesterday's heavy downpour on the road.
"Contrary to the amateur clip that went viral earlier today, nothing much happened I can confirm that the construction company handling the project is on site working on the stretch."