Uncategorized
Obiano to compensate accident victims, pay for over 50 cows burnt by mob
Obiano to compensate accident victims, pay for over 50 cows burnt by mob
Tony Okafor
Obiano to compensate accident victims, pay for over 50 cows burnt by mob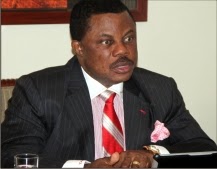 The Anambra State Governor, Willie Obiano, has pledged to compensate accident victims as well as  pay for the over 50 cows burnt by irate mob during a road crash at Kwata junction, Awka, the state capital, last week.
 A high-powered delegation led by the Secretary to the State Government, Prof Solo Chukwulobelu disclosed this  on Wednesday when it  visited  a victim of the accident at a hospital in the state.
 Eight persons reportedly  died in the crash, resulting in irate mob setting ablaze a truck laden with cows said to have caused the accident while several other persons sustained varying degrees of injury.
The owner of the cows, Mr. Cosmas Okafor said he lost over 50 cows in the accident, adding that when he rushed to the scene of accident and saw that the truck had been set ablaze by a mob, he had to leave the area for fear of being attacked.
Chukwulobelu said Governor Obiano directed the delegation  to visit the accident  victims and report to him with a view to determining how the state government could assist them.
The SSG commended officials of the hospital for rising up to the occasion and reminded businessmen of the need to insure their businesses in case of any eventuality
Commissioner for Information and Public Enlightenment, Mr. Adinuba said apart from Governor Obiano's directive that the delegation should visit families of the deceased victims and the owner of the cattle , Mr. Cosmas Okafor from Umunnachi in Dunukofia local government area, those receiving treatment in the hospital and the owner of the truck carrying the cattle would be  visited as well.
Adinuba  said the delegation would visit the truck driver and other persons with him in the vehicle when the accident occurred, including one  Mr Muhammed Ndaji from Taraba State who was receiving treatment in a hospital in Awka
He condemned the setting of the lorry ablaze, stressing that the state government abhored jungle justice and all manner of mob behaviour.
Adinuba said: "Such behavior has no place in any civilized environment. Like in every decent society, there are laid down procedures which aggrieved citizens and people take. Persons found guilty of irresponsible conduct in respect of the tragedy of last week in Awka will face the consequences of their action".
He observed that many cows in Anambra State were jointly owned by indigenes of the state and people from the northern part of the country in a joint business arrangement which spelled  out not just the ratio of ownership, but also the ratio of sharing both profit and loss.