Column
Okpalaeke: Anambra and the Vatican Show
Opinion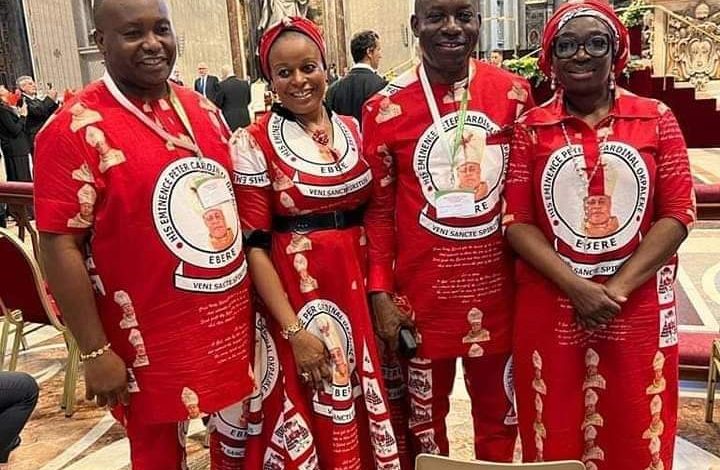 By David-Chyddy Eleke
I like Anambra people. You can not find them anywhere without them dominating. You're not wrong if you say an average Anambra person is usually domineering.
Some may be loud. The loud ones announce themselves. If they step into an event and you fail to notice them, they notice themselves in a way that make others notice them.
Others are silent. You can find these group among the highly read and cultured ones, but as silent as they can be, something about them announces their entry anywhere.
Today (Saturday), Vatican City and all her residents can not feign ignorance of the visit of a very special breed. Everyone who is someone in Anambra is in Rome right now. The rest of us who amount to less are here keeping watch over the state, while our very first eleven represent us in Rome.
From the ruling All Progressives Grand Alliance (APGA), and all her top players, to the opposition Peoples Democratic Party (PDP), including her candidates and all the other political parties, their candidates and bigwigs, everyone is in Rome.
You know what, in Rome, none of them have acknowleged their political parties. They have all been taking pictures freely with every available Onye Anambra. In fact, the criteria for who to take pictures with is not political party; it is just being an onye Anambra.
To further underscore it, irrespective of political party, all attendees dedicatedly bought Ankara materials, hired tailors to make them into good dresses, and gleefully wore them in Rome, taking pictures with each other.
Even our governor, Prof. Chukwuma Soludo either forgot that it's Anambra 31st Anniversary today, and travelled to Rome, or felt the epoch event at the Vatican didn't need to be narrated to him, and decided to experience it first hand. Kudos to him for remembering to send us a recorded tape of the anniversary.
Lest I forget, the event was the installation of former Bishop of Aguata Catholic Diocese, Bishop Peter Okpalaeke as Cardinal. He is now Peter Cardinal Okpalaeke. If you know the history of Cardinal Okpalaeke's travails in the church, especially his rejection by a diocese in a sister state in Nigeria for very flimsy reasons, you will know why Anambra honoured him that much.
Forgive me, I only remembered lately to mention that the Rome show was for Cardinal Okpalaeke because the numerous pictures I have seen of Anambra bigwig politicians snapping away in the Vatican has diminished the reason for the visit.
Who knows, tonight at the Vatican, Anambra bigwigs will beyond the installation discuss politics in various hotels. Believe me, the Rome visit may shape 2023 in Anambra State. I love Anambra, I love Anambra people, Rome will not forget in a hurry that they came.