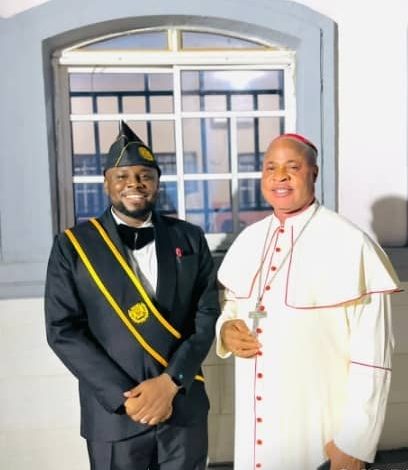 By Tony Okafor, Awka
Dr Nelson Omenugha has been initiated into the Ancient Order of Knights of St John International (KSJI).
Receiving Omenugha in audience,
His Eminence, Peter Ebere Cardinal Okpaleke, imparted his blessings , and congratulated him on his initiation into the Ancient Order KSJI .
Similarly, His Grace, Most Rev Valerian Maduka Okeke, the Archbishop of the Catholic Archdiocese of Onitsha, and Metropolitan of Onitsha Ecclesiastical Province, has extended warm congratulations and prayerful wishes to Omenugha on his initiation into the prestigious Ancient Order of KSJI.
For Omenugha, " It's always refreshing to hear from my big daddy, His Grace."
Born on 15th May, 1990, Sir Nelson Obinna Omenugha is the Special Adviser (SPAD), Youth Empowerment Programme to the Anambra State Governor , Prof Charles Chukwuma Soludo.
Omenugha is a serial social entrepreneur and disruptor. He lectures at the Department of Mass Communication, Nnamdi Azikiwe University, Awka, and convenes one of the most robust youth-based sociopolitical movements in Nigeria, Youths Earnestly Seek (now Support) Soludo (YESS).
As the YESS Convener, Nelson harnesses the creative energies of the young people, mobilises resources and leads the advocacy of youth participation in creating a prosperous homeland.
He also chairs Smartclick Consult Ltd, an incorporated socially responsible consultancy company with strategic focus on the application of renewable energy technologies for smart living and sustainable project management.
Smartclick Consult Ltd designs, procures, distributes, installs, services and trains on transformative solar energy solutions with the vision to meet the power needs of the people.
Nelson has strong bias for passion and drive, integrity in leadership, service to humanity, good morals, and strong family values. These had shaped his life trajectories and inspired his commitment to social change.
As an undergraduate student at the Nnamdi Azikiwe University Awka, Nelson was an active participant in the students' union. Remarkably, at the age of 19 and in his second year of study (2009/2010 academic session), he was elected President of the Students' Union Government, where he led over 33,000 students. He was the youngest, first-ever second year student to be elected the President of the Students' Union Government in the university. To his credit and that of the administration, Nelson received eighteen (18) commendation letters from the University Management Committee (UMC) and critical university stakeholders for several creative initiatives and contributions of his administration to the university community.
Nelson graduated top of his class in his undergraduate studies, Bachelor of Science (B.Sc) in Mass Communication from Nnamdi Azikiwe University, Awka, winning the 2011/12 Vice Chancellor Best Student Merit Award of the Department. He holds a Master of Arts (M.A) in Strategic Marketing Communications and a Master of Science (M.Sc) in International Marketing Communication Strategy from the University of Greenwich, London, and France Business School (ESCEM), Poitiers, respectively.
He also holds the Global Youth Leaders Certificate of Coady International Institute, Antigonish, Canada. In addition, Nelson obtained his doctorate degree (PhD) and at the age of 29 from the Media and Communications program of Xi'an Jiaotong-Liverpool University (XJTLU), China.
During his doctoral studies, he served as African Students Ambassador, coordinating the activities of African Students in XJTLU. He was also appointed as Research Assistant, Teaching Assistant and Production Assistant for various academic engagements.
Before leaving the shores of Nigeria for his Masters and Doctorate studies, Nelson undertook his mandatory National Youth Service Corps scheme at Nigerian Electricity Regulatory Commission headquarter, Abuja. At the commission, Nelson was a member of the tact team that provided research and strategy support towards the reforms of the Nigeria Power Sector, including in the unbundling of the Power Holding Company of Nigeria (PHCN) and introduction of the prepaid meters.
He prides in the letter of commendation for excellent services he received from the commission on the expiration of his primary assignment. He was also the Personal Assistant to the Hon Commissioner for Education, Anambra State. Working in the ministry afforded him the opportunity to interface with several educational bodies in Nigeria and part of the facilitators of Education for Employment (E4E) drive in the State. Nelson equally worked as the Special Assistant (Research and Strategy) to the Managing Director/Chief Executive of Awka Capital Territory Development Authority (ACTDA) and was a critical part of the drivers of the Anambra State Urban renewal plan.
In 2019, Nelson was appointed into Anambra State 50year Development Plan (Vision 2070) Committee. In the committee, he served as the secretary of the Climate Change sub theme and one of the principal actors that envisioned & planned the development of Anambra that is environmentally clean, safe and sustainable; proposing strategies on how to turn the State environmental misfortune into a tourist haven and a hidden treasure. Nelson also served at the 2022 Anambra State Gubernatorial Transition Committee (ANSGTC), and made considerable contributions in the Human Capital Development (Youth Development theme) subtask. He had received letter of commendation from the subtask co-chair for demonstrating "unique skills, competencies, and a high promise for team work and productivity".
An achiever of all time, on 13th January 2015, Nelson was the only Nigerian and African to make the list of 10 young people in England for Unilever Europe Future Leaders League; a feat which offered him the opportunity to gain professional experience in sustainable business practices and compete in series of business cases. Nelson is an active participant of The Economic and Social Council (ECOSOC) Youth Forum taking place on 19 and 20 April 2022 in a virtual format. The Forum provides a platform for young people to engage in a dialogue with Member States and other actors on concrete actions to rebuild from COVID-19 and to advance towards the implementation of the Sustainable Development Goals (SDGs) Decade of Action. The Youth Forum addresses the theme of ECOSOC and the 2022 UN High-level Political Forum on sustainable development (HLPF) on "Building back better from COVID- 19 while advancing the full implementation of the 2030 Agenda." It will also review progress in the areas of quality education (SDG4), gender equality (SDG5), life below water (SDG14), life on land (SDG15) and partnerships for the goals (SDG17).
Nelson is an avid traveler and has traveled to eighteen (18) countries for personal and professional development. His research interests span the scope of media studies and management, disruptive technologies and digital economy, youth entrepreneurship, policy work and leadership. These are core areas that Nelson would be contributing to at the upcoming World Bank Group (WBG) Youth Summit at Washington DC and Canada Youth Summit at British Columbia.