News
Only UN referendum is keeping us in Nigeria- IPOB
News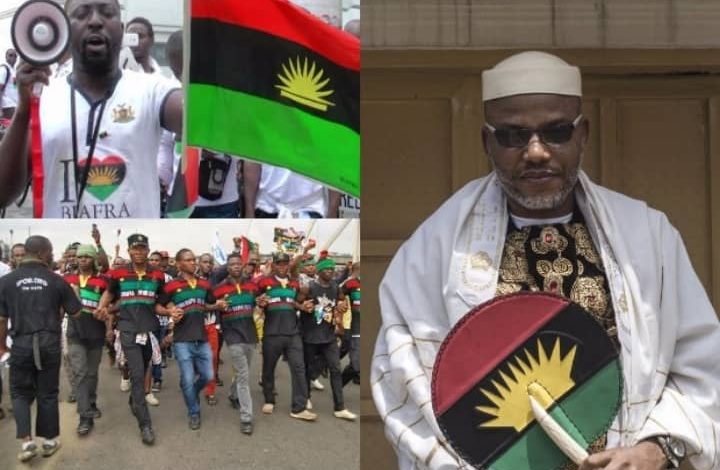 Tony Okafor, Awka
The Indigenous People of Biafra ( IPOB) has said the only thing that will make it to be interested in Nigerian politics is only if the federal government will fix a date for referendum to determine the fate of Biafra as a sovereign state.
The publicist of the secessionists, Emma Powerful, stated this on Monday in a statement circulated to journalists.
It maintained that anything short of a United Nations' supervised referendum to determine Biafra , it would not be interested whatsoever in Nigerian affairs, especially in the 2023 general elections.
"If this fulani-led government wants IPOB to be part of their politics, they should fix a date for Biafra Referendum then they will see civilized political prowess of IPOB," the secessionists stated.
It warned the police to stop linking its
(IPOB) members with planned attacks on political campaigns, stating that such were not its preoccupation .
The group's state read in part, "We the global family and movement of the Indigenous People of Biafra (IPOB) under the command and leadership of Mazi Nnamdi Okwuchukwu Kanu is amused to the laughable and disgraceful statement credited to the Inspector General of Police linking ESN and IPOB to their already planned attacks on political campaigns and fraudulent election.
"The corrupt Government and their compromised security should know that IPOB and ESN volunteers don't engage with Nigeria shambolic political campaigns and selection process they call election.
" IG of Police should leave IPOB volunteers and ESN Operatives alone to focus on things that matter instead of trying to get them involved in Nigeria Government and it's fraudulent political processes. If Nigeria police have concluded their plans to commit crimes during political campaigns and tag it on IPOB and ESN they will fail as usual.
"Any time Nigeria Security Agencies raises false alarm, know that they have planned attacks to blackmail IPOB and ESN Operatives but we cannot allow them to continue their business of blackmail. These compromised Security agencies have killed innocent people in an effort to blackmail IPOB but Chukwu Okike Abiama( God) has always vindicated us.
"We have always maintained that we are not interested in anything that has to do with Nigeria let alone taking any side in their fraudulent political process. IPOB are not zoo politicians. The only political process that IPOB will participate in is a UN supervised Biafra referendum that will usher in Biafra Sovereignty and Independence.
It said, "Anyone intending to link ESN Operatives, volunteers, including IPOB members in their planned political attacks is deluded and regret will always be their portion.
"Inspector of Police and his officers should stop their planned attacks because they will always be exposed and disgraced. IPOB hands are clean. In the process of blackmailing IPOB they will plunge Nigeria into a political crisis that will consume Nigeria and their corrupt polititcians."