Campus Buzz
Education
Oyedepo's Kingdom Heritage School Lockout Pupils on First Day of Resumption Over Fees
Education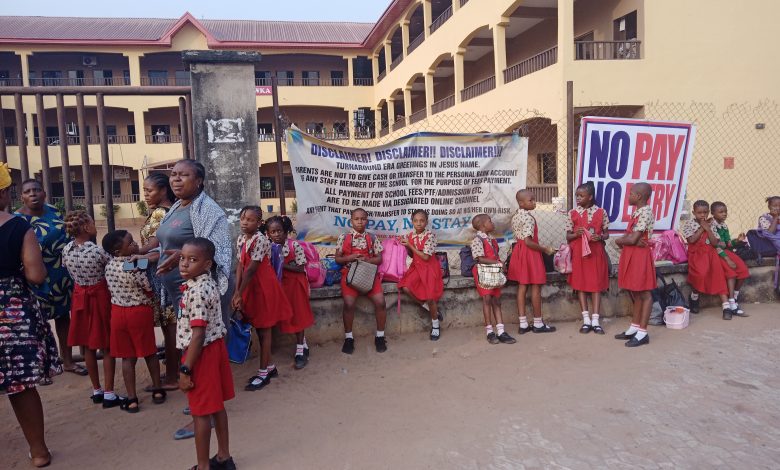 Tens of pupils of Kingdom Heritage Model School, Awka were on Monday morning locked out of school on the first day of resumption of school, over non payment of school fees.
THE RAZOR NEWS correspondent who was in the school saw many of the pupils, most of who had been dropped by their parents, stranded at the gate, as the school management denied them entry.
A huge banner which was displayed at the entrance of the school read: No Pay, No Entry.
A man who identified himself as the bursar of the school said it was a policy by the management of the school, insisting he was acting under instruction, not to let pupils whose parents had not paid fees to enter into the compound.
Parents who had brought their children to school were also sighted at the gate, tackling school management over the policy, insisting that the policy was un-christianlike, and should not be seen in a mission school.
Parents who brought cash to the school were also turned back, including those who begged to make transfers to the schools account.
A visibly angry parent who identified himself as Andrew said: "What kind of policy are they operating in this school? I have been to bank to pay through e-bills, which is the platform we usually pay school fees, but we learnt they have moved to another platform. I'm here with cash, and they are not even accepting. What is paramount in their mind is how to chase children away, let the classrooms be empty."
Another parent, a lady, Mrs Angela Oko said: "I have not paid, I have not even attempted to pay, but for me, I believe that since my children will be here for the full term, which is four month, it is not too much to give a grace of one week.
"This is a business, we trust them, that is why we are bringing our children to them, so they too should trust us that we will pay. We just finished Christmas holiday, banks have not even been working, some people just came back from holiday. Some people may not even be able to pay until they have received January salary. Schools should see a way to help parents manage the situation we are in, and not to turn back their children.
"I am a teacher, this first day in school should be a day teachers take stock of their pupils to ensure they all came back from the holiday. In most schools, they mandate you to ensure the children start school on the very first day of resumption, so that they can cope with academic activities, but here in a mission school, they are even turning pupils back, and with so much arrogance, that is my annoyance.
"First days like this should be the day children are pampered, and each made to recount what their Christmas holiday was like, so that others will learn, but if you send home a child today, how does the child learn from what others recounted."
Another parent whose name was not immediately ascertained said: I have a child in a government school, even though they told me we must pay fees upon resumption, they also said every child must come to school on the first day of resumption. They even said they will punish children who fail to report to school, whether they have paid or not. As I speak, my son is in school, and has not paid.
"I also have another child who attends a private school, owned by someone who I'm not even sure is a Christian. For all I care, the owner of the school may even be a pegan, but his pupils also went to school today. But look at what a mission school is doing, chasing children home. Some of the children whose parents dropped off and left may even be stranded here.
"To know that this is a school, which is owned by a church, a church which preaches spirituality, forgiveness, tolerance and other virtue, yet they can not live up to their own words is very annoying."
Headteacher of the school, Mrs Celestina Okaa however stated that the 'No Pay, No Entry' rule was a policy of the management of the school from its headquarters.
"We give daily update to the headquarters about development in the school, and the reactions we have gotten today will form our update to them today," she said.