News
Peter Obi 'adopts' viral OBIdient baby girl
News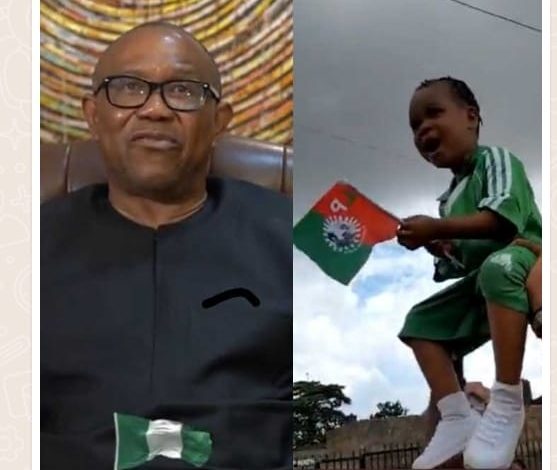 Our correspondent
Labour Party presidential candidate, Mr. Peter Obi has commended the little girl identified as Chioma Success who went viral for her vibrant display during the mega rally on Saturday, October 1.
In a statement on his official Twitter handle, Obi hailed the baby girl's passion to see him win the 2023 presidential election.
He further stated that the struggle to rescue Nigeria from poor leadership is mainly for the sake of younger ones who are the future generation, adding that Success has become the poster child of his seminal campaign for a new country come 2023.
"The fight to take Nigeria back is for the sake of this little girl, Chioma, and for the sake of every Nigerian child – Amina, Yinka, Akpan, Abdul, Asake- including the unborn children.
"Chioma is now the poster child of this seminal campaign and process of national rebirth.
The little girl was seen in the video of the rally in Lagos, marching and holding Labour Party flag in the company of other adults expressing her desire for the LP presidential candidate to win the 2023 election.
The video has gone viral as people were enthralled by the level of excitement with which she waved the Labour Party flag and cheered the crowd during the rally.
The rally which held in different parts of the country including Lagos, Benin City, Warri, Kaduna, Gombe, Bauchi, Uyo and London, was to declare support for Obi and his running mate Yusuf Baba-Ahmed Datti by their supporters known as Obi-dients.
Similarly, Nigerian singer and actress, Onyeka Onwenu has also described the attitude of the little girl that appeared in the viral video of Obi mega rally as such that inspires hope of survival in the minds of the citizens.
Reacting to the video Onwenu said she is delighted in manner in which the baby girl expressed her preference for Obi to win the election saying she has vibrant and triumphant spirit and really captured the essence of what Peter Obi himself symbolizes.
"In only a few fleeting moments, she captured the essence of what Peter Obi himself symbolizes – Hope and the joy of being alive. The spirit of this baby girl was vibrant and so positive – triumphant even. It was a pure delight to watch.
She sparks the same Spirit in the viewer! It is infectious," Onwenu remarked.
Meanwhile, an individual identified as Okey Agu has promised to give the baby girl scholarship up to university level due to vibrant display.
Mr Agu in a Facebook post said there is something inspiring in the little girl.