Human Interest
Residents, Traders Appeal  to Gov.Obiano Over Construction of Pedestrian Bridge
Human interest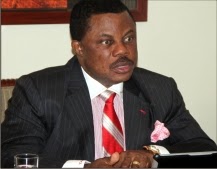 Due to incessant loss of lives and other hardship faced by residents and traders around Building Materials International Market, Ogidi, Idemili North LocaI Government Area of Anambra State,a call has been made to the State and Federal Government to construct a pedestrian bridge at Enugu/Onitsha Express Road .
The bridge if constructed will drastically reduce incessant road accidents involving residents and traders living or transacting businesses within the vicinity.
A similar bridge which was constructed a few years ago at Tarzan Junction along Enugu/Onitsha Express Road under former Governor Chris Ngige's administration seems to be serving no useful purpose as pedestrians prefer crossing the road on foot with ease due to its location.
However,in a bid to address the issue, residents of Ogidi Building Materials Market,traders and artisans have appealed to the Anambra State Government to come to their aid by building a pedestrian bridge within the vicinity.
There have been reports of human casualties who were killed by motorists while attempting to cross the ever busy road.
While pleading with Gov.Willie Obiano to award contract for commencement of work on the road, President, Building Materials International Market, Ogidi,Chief Jude Nwankwo emphasised that bulk of businesses being transacted in the area on daily basis by traders was enough reason to build the bridge.
The market leader disclosed that not only that cluster of markets are located in the area such as the building materials, cosmetics, bakery materials, plastic,fabrics -synthetic and other minor markets  residents living around the express road suffer the same fate and fear of being crushed or killed by over-speeding vehicles.
Chief Nwankwo stated that as responsible citizens traders at the building materials market pay all their taxes and  other financial entitlements to the State Government and called on proper action to be taken concerning the affected road to save lives as well as improve the scope of business in the area.