Education
Senate approves Okija Law School in Anambra
Campus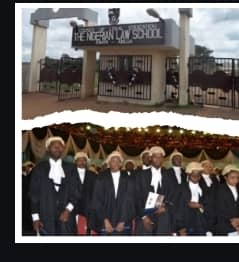 The Nigerian Senate, on Tuesday, approved a campus of the Nigerian Law School at Okija, Anambra State.
Five additional Nigerian Law School Campuses were also approved with each geopolitical zone getting a campus.
This came in response to a bill that seeks to increase the number Campuses in the country from 6 to 12.
The approval also follows the adoption of the recommendation of the Senator Opeyemi Bamidele-led Senate Committee on Judiciary, Human Rights and Legal Matters.
After considering the bill, the report of the committee was presented on Tuesday during plenary.
The bill titled "A bill for an Act to amend the legal education (Consolidation, etc) Act by establishing the campuses for the Nigerian Law School, and for other related matters" was sponsored by Senator Smart Adeyemi (Kogi West).
The Law School currently has campuses located in:
Lagos (Southwest)
Abuja (North Central)
Yola, Adamawa State (Northeast)
Kano (Northwest)
Enugu (Southeast)
Yenegoa (South-South)
The locations for the new campuses as contained in the passed bill include:
Kabba, Kogi State (Northcentral)
Maiduguri, Borno State (Northeast)
Argungu, Kebbi State (Northwest)
Jos, Platane State (North Central)
Okija, Anambra State (Southeast)
Oregun, Delta State (South-south)
Ifaki, Ekiti State (Southwest)
The Nigerian Law School is an educational institution set up by the Government of Nigeria in 1962 to provide a Nigerian legal education to foreign-trained lawyers, and to provide practical training for aspiring Legal Practitioners in Nigeria.
Until the school was established, legal practitioners in Nigeria had received the requisite training in England and had been called to the English Bar