Politics
Soludo's Aide Attacks Uloka for Likening Gov to Buhari, Calls Him 'Alien'
Politics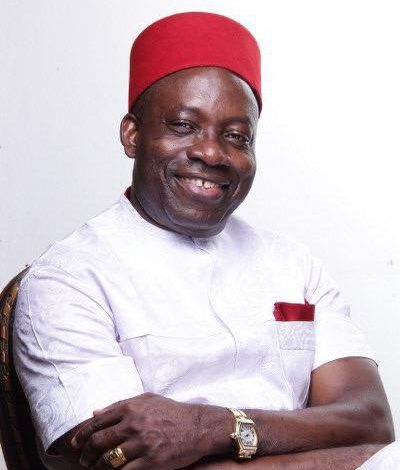 The Press Secretary to the Governor of Anambra State, Mr Christian Aburime has attacked a public policy analyst, Mr Uloka Chibuike for likening his principal to Buhari, who was noted as a failed leader.
In a write up sent to THE RAZOR by Aburime, he described Uloka as an alien, who does no know what is happening in the state, and how the governor was transforming the state.
Excerpts:
Just because talk is cheap, and opinion is free, every scumbag thinks they can spew reckless inanities in the public space.
Hiding under the guise of democratic liberty, all manner of despicable empty shells masquerading as public affairs analysts in Anambra State now have an opinion on Governor Chukwuma Charles Soludo and his administration.
Miserable busybodies that they are, they have no other job than vilifying a governor who has been busy making life better for Ndi Anambra in the past 19 months.
Although constructive, objective criticism is always welcome as part of improving governance, the antics of dimwitted roadside critics who always choose to intentionally twist issues or concoct fictitious tales in their desperate attempts to run down the government are most reprehensible.
If their relentless negativism is not sponsored madness, then maybe it is self-inflicted crass ignorance, obsessive insanity in urgent need of psychiatric attention, or a pitiable case of disoriented aliens residing in an alternate planet distant from Anambra State.
The latest case of one Uloka Chibuike, a self-labeled public policy analyst, fits into the pattern of pathetic ranting of a misguided lowlife trying to chase clout with his trashy opinion published in a non-descript online medium.
Taking his jaundiced written trash too far, this low-budget critic dared to draw a ridiculous comparison on Governor Soludo. But his wild claims of Soludo being a 'failure' as well as his reckless allegations of nepotism are just as ludicrous as the shabby brain he draws on to express himself.
First of all, comparing Soludo to others is plain skullduggery as there is no basis for any juxtaposition at all. While others can speak for themselves, Soludo's responsibility lies within the confines of Anambra State where he is working tirelessly to bring about positive change.
Governor Soludo's strivings for Anambra are grounded in transformational economic growth, infrastructure development, social flourishing, educational excellence, security of lives and property, youth empowerment, agricultural renaissance, technological innovation and much more.
Sadly for Chibuike, our 'public policy analyst', he is either living in a stone-age cave far from Anambra State civilization or he is intentionally too blinded by mischief to see the good work Governor Soludo is doing in diverse sectors of the State.
In his imaginary world of confusion, Chibuike referred to Governor Soludo's noble vision of an African Dubai-Taiwan as "Dubai, Taiwan, and Hong Kong". Contrary to the misnomer, Soludo remains fully on course to achieving his ambition to elevate Anambra State's economic standing and transform it into an African version of the Dubai-Taiwan axis of prosperity.
If ignoramuses like Chibuike need proper education, let him know that Anambra State is in the early stages of transformation; Rome wasn't built in a day. The governor is very clear about his ADT vision, unlike Chibuike's "vague and nebulous' haze of misrepresentation.
Ordinarily, an unknown quantity like Chibuike should be ignored, but then his displayed ignorance provides another opportunity for us to educate other similar pathetic dimwits by enumerating the many concrete achievements of Governor Soludo within a short time in office.
For instance, patriotic, genuine and sincere Ndi Anambra have seen and heard about the Soludo government's more than 400 kilometres of roads under construction just within first 18 months in office, with most nearing completion; unprecedented recruitment of 5,000 teachers in the education sector, with 3,000 additional teachers about to be employed in public schools; free education and abolition of levies and all manner of charges from primary to JSS1 in all public schools; employment of over 300 doctors and over 200 other healthcare practitioners in less than 2 years; and free antenatal and delivery services for pregnant women in government owned hospitals.
Yes, our people who reside in Anambra State and not in outer space have also seen and heard about the government's massive electrification of the entire landscape of the State with 25,000 solar-powered streetlights, saving the State a whopping N600m naira diesel expenditure monthly; a befitting new Government House under construction, to be delivered in late or second quarter of next year; and the empowerment of Anambra youth through the Solution 1Youth 2 Skills programme, with 5,000 youths already trained in various vocations and professions and about to be equipped and given grants to start their own businesses.
What's more, real people who appreciate achievements and good governance have also seen and heard about improved salaries, gratuities and pensions being paid regularly in our State; an agricultural renaissance through Soludo's ambitious Coconut and Palm Oil Agenda that is set to empower many households and lift them out of poverty, with almost 2 million free palm seedlings distributed so far; permanent solution to perennial gridlock at Ekwulobia, one of the four major urban centres in the State, with a beautiful flyover; and the decimation of criminality, via Soludo's decisive security architecture, in about 8 local government areas which were previously under the control of hoodlums otherwise called UGM.
One can go on and on enumerating the many achievements of Mr. Governor which are spread across all facets of the State, but space cannot suffice.
Certainly, it is very clear to any objective observer and resident in our State that the Solution agenda promised by Governor Soludo is really, visibly working. It takes only reckless puny irritants like Chibuike to rant about what they know not.
Perhaps they know the truth but choose to play the ostrich and parrot at the same time, blabbing about nothing.
To be sure, Governor Soludo is building concrete legacies to last, not playing to the gallery to impress anyone. The allegations of Governor Soludo's nepotism and family involvement in governance are also total nonsense and fallacy.
There is no other de facto governor in Anambra State today than Prof. Soludo himself. There is no relative or member of the governor's family that is being given any preferential position, power or privilege to abuse as Chibuike alleged.
All institutions of the state government are carrying out their duties without fear or favour. Appointing individuals into public office is always based on pure merit and not undue favouritism.
Also, there is no iota of truth in the mischievous allegation that the Anambra State Ministry of Culture and Tourism annually allocates funds for the governor's daughter, Adaora, to run a fashion expo. While the State Ministry of Culture and Tourism may choose to support any initiative that is promoting culture and tourism in the State, regardless of who is involved, Adaora funds her fashion shows all by herself.
The hardworking young lady is resourceful and responsible enough to do her own stuff without pulling the weight of her governor-father or drawing support from the State resources.
All said and done, Governor Charles Soludo is too busy working diligently to fulfill his promises to the people of Anambra to be dragged off course with senseless criticisms and baseless allegations every now and then. While challenges persist, it is crucial to appreciate the broader vision the governor holds for the State's future and the intentional efforts he is making to transform Anambra for good.
There is no amount of toxic trash disguised as public affairs analysis that can pull this government down. There is no quantity of disoriented subversive elements like Chibuike that can halt the governor in his progressive tracks. Anambra State will keep moving forward under Governor Soludo with the kind support of the good people of Anambra who are breathing free in a safer, saner environment.
Mental derelicts in human form are advised to look for something meaningful to do with their miserable lives than constituting themselves into perennial distractions in the name of criticism. Soludo is on the match Anambra is continuously winning