Human Interest
Soludo's war against Agbero: 64 Suspects arrested in Onitsha
Human interest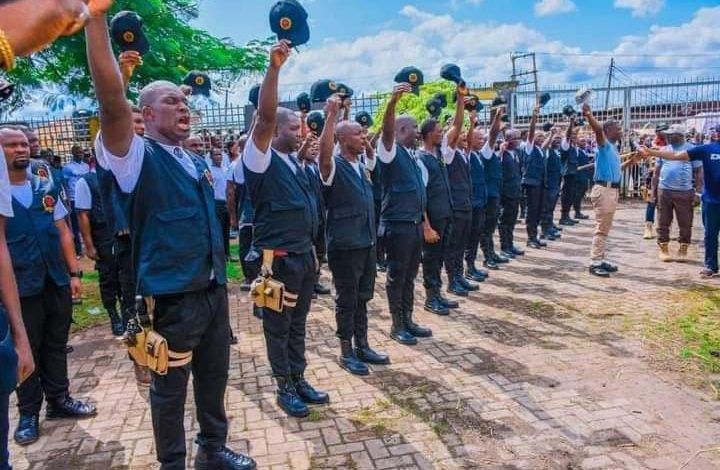 Our correspondent
Barely 24 hours after inuagurating Anambra State Anti-Touting Squad (SASA), the squad has arrested 64 suspected touts and other criminals around Upper Iweka, Bridge Head and Chisco Motor Park, Onitsha.
The SASA Director of Operations, Mr. Solomon Onwuemene, while parading the suspects at Onitsha, said the arrest would continue until Onitsha metropolis is rid off criminals.
Onwuemene, who said the suspects would be prosecuted accordingly if found wanting at the end, charged those still deriving pleasure in touting to repent and key into the government various initiatives to become productive.
Governor Chukwuma Charles Soludo had while inuagurating the squad on Monday, said they would help to restore law and order in the greater onitsha area consisting of Onitsha North, Onitsha South, Ogbaru, Oyi, Idemili North and Ifemili South Local Government Areas.
He said, "When we assumed office, 8 local governments were taken over. Thanks to the combined efforts of our security agencies and the vigilante service with the support of those local government areas have been liberated and normalcy restored. The Governor charged the citizens to always remember the campaign of "if you see something, you say something".
"We have told the youths to come out from their hideouts and the bush. We shall help to rehabilitate and integrate them into society to be useful to their families, communities, states, and nations. While dealing with hoodlums on a larger scale, we will be dealing with touts in Onitsha greater area and Anambra State as a whole.
"We are fighting a war to bring back the soul of our society governed by law and order not a society anyone does what he or she likes arbitrarily without recourse to law and order. Touts disturb customers who come from every nook and cranny of the country. But this journey is to rescue Onitsha as a commercial hub and Anambra State in general."
Earlier at the inauguration, the Commissioner for Homeland Affairs, Chief Chikodiri Anara, maintained that the launch of the Special Anti-Touting Squad is the start of the journey, assuring that they are well trained and by December, positive changes will be noticed.
He sounded a note of warning to hoodlums causing trouble in the state to leave the state, as they won't find it comfortable to operate from now on.