Column
Umeh: Four Months Of Putting Anambra Central On The Track Of Progress
Opinion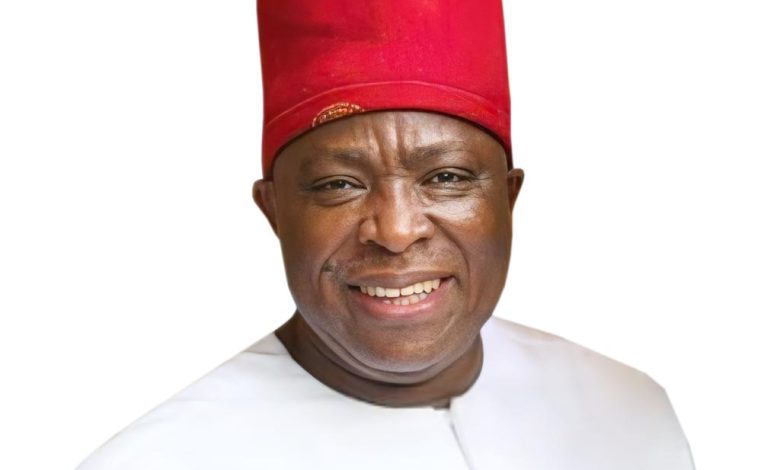 By Charles Ifeanyi Obi
The people of Anambra Central are once again witnessing a quintessential and unrivaled representation in the 10th Senate as Senator Victor Umeh embarks on dynamic and tactful legislative engagements.
Senator Victor Umeh who was an award winning Lawmaker in the 8th National Assembly owing to his outstanding performance between 2018 and 2019 after he was able to clear all the litigations delaying his Election; he has remained a Five-star Senator, consistent and indomitable by all assessments.
While his impacts in the 17months of participating actively in the 8th Senate and his numerous projects cited in various communities across Anambra Central are still being put in good use for the benefits of the people of Anambra Central, with 76 Youths graduating from Tertiary Institutions courtesy of the Anambra Central Scholarship Programme by Senator Umeh and up to 50 others gainfully employed owing to his massive employment drive as well as other Skill Acquisition/Empowerment Programmes for Youth and Women, and distribution of 34 tricycles (Keke na Pepe) to Anambra Central men which have elevated many families above poverty threshold; Senator Victor Umeh is back in the 10th Senate making even more concerted efforts to do more than he did before.
His voice has become even louder and lots of amazing programmes and projects have been articulated for the betterment of the various communities and the people of Anambra Central.
Among his numerous robust presentations in the Senate, Senator Umeh made stringent inputs on the Motion on "Urgent need to Reconstruct/Rehabilitate the Onitsha-33-Otuocha-Adani Roads Boundary to Enugu State" presented by Senator Tony Nwoye. Affected by the sufferings of road users, he visited Oba Erosion/Landslide Site Along Onitsha-Owerri Road and called For Emergency Intervention. Consequently, he made a persuasive outcry in the Senate with a Motion on "Urgent need to control the erosion ravaging Onitsha-Oba section of the Onitsha-Owerri Federal Highway in Anambra State"
Senator Victor Umeh sponsored a motion titled: "Urgent Need to Protect Local Meter Manufacturers in the ongoing National Mass Metering Programme of the Federal Government.
Just on November 15th, the untiring Senator Umeh greeted the Senate with a Motion on "Urgent Need to upgrade the Eastern Rail Line (Traversing Port Harcourt-Enugu- Maiduguri) from Narrow Gauge Rail to Standard Gauge Rail" which was co-sponsored by thirty four other Senators.
A Motion the President of the Senate, Senator Godswill Akpabio described as patriotic and of national importance.
The ranking dexterous Senator is the Chairman of Senate Committee on Diaspora and NGOs, and Member of 13 other strategic Committees of the Senate through which enormous programmes would emerge for the good of ndị Anambra Central and Nigeria in general.
Despite being a Member of a minority Party—LP, he has continued to feature very proactively and has become a formidable voice other senators/proponents would lobby to achieve a successful debate.
Nevertheless, some of the sterling contributions of Senator Victor Umeh in the 10th Senate are: 1. Additional prayer calling on the Inspector General of Police to punish Police Officers involved in Harassment & Abuse of Commuters & Travellers. 2. Sought Justice for Igwe Chukwuemeka Cyprian, a final year student of University of Abuja from Ichida, Anambra State.
He was one of the lead voices that backed Anambra-born Barr. Mrs Uju Kennedy Ohanenye during her screening as minister nominee. She is presently the Minister of Women Affairs.
In just FOUR MONTHS, Senator Victor Umeh has redeemed the place of Anambra Central as a prominent Senatorial District in Nigeria through his visionary, punctual and distinctive representation despite the legal tussle/distractions by his opponents who refused to accept their humiliating defeat in the last Election. Thank God he further emerged VICTORious in both the Election Tribunal and Court of Appeal.
In this FOUR MONTHS, he has facilitated employment opportunities for about 20 ndị Anambra Central whilst issuing letters of recommendation to numerous constituents with genuine reasons. He has maintained an open door policy whereby his office is open and accessible round the clock with a competent team of staff selected from communities in Anambra Central. He has also continued to reach out to his constituents, attending to lots of their invitations, as many as possible.
Only Four Months gone, ndị Anambra Central should brace up for a fruitful and people-oriented representation in the next 3 years and 8months. The yield shall be enormous!
Do not listen to any rabble rouser trying to whip up sympathies by pathetically spewing junks in the guise of performance assessment. Those are lamentations of people who lost Election.