Politics
USA plotting to rig 2023 presidential election, IPOB warns
Politics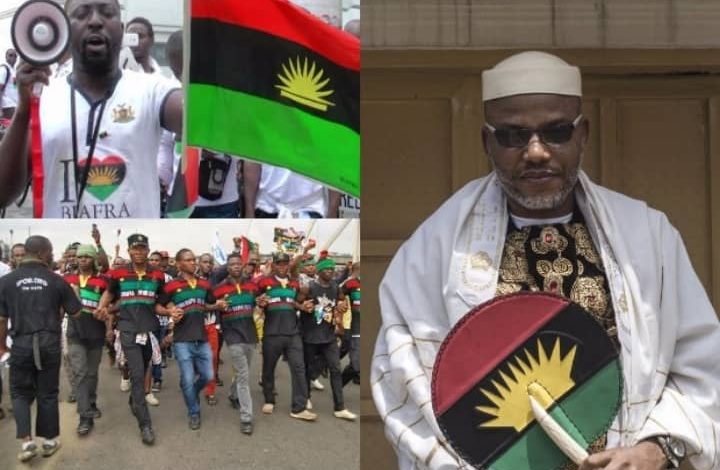 Tony Okafor, Awka
The Indigenous People of Biafra (IPOB) has warned that the United States of America ( USA) is plotting to rig the 2023 general elections in favour of a presidential candidate that will allow them(USA) free access to the Nigerian oil.
The secessionists stated this on Sunday in a statement circulated by its media and publicity secretary, Emma Powerful.
It accused the US of playing similar role in 2015 by foisting President Muhammadu Buhari on Nigeria.
The Biafra agitators said, "We, the global movement and family of the Indigenous People of Biafra (IPOB), wish to put this to the notice of the world and particularly Biafrans and Nigerians that America government has come again in 2023 selection process called Nigeriam election.
"In 2015 , Barack Obama came as American president worked and worked very hard to make sure Nigerians voted for Buhari and intimidated Goodluck Ebele Jonathan to concede to defeat.
Now everyone has seen the USA gift to Nigeria as a president in 2015. They never meant well for Nigeria. Notwithstanding, many and self- centered individuals applauded US for giving Nigeria Muhammadu Buhari and hailed America as a saviour.
"This year again, Joe Biden is treading on the same path. The American government led by Joe Biden has mapped out peanuts of $50m to deceive the gullible minds and the money is coming from their companies from what they have stolen in Biafran oil from the coastal region. They are claiming to support another selection of Nigerian President come 2023.
The group added, "This money was meant for Nigeria selection of another president which is who will pave ways for the American oil companies to continue stealing more oil from Biafraland and making sure there is no interruption of oil flow to the west especially now that they can't count on oil from Russia.
"Don't forget tha the US is now the new colonial master in Biafra and Nigeria. They have taken over from the British and they have stepped into the Uk shoes as the British empire is falling apart gradually in Africa. Therefore, Biafrans and Nigerians, it's time to think deep of all these games the west is playing in our land.
THE IPOB STATEMENT CONTINUES
USA is fast in donating millions of dollars for another selection process called Nigeria election in Nigeria in 2023, but when it comes to human rights abuses of Biafra and Nigeria citizens they look the other way. When it comes to infrastructural development in Biafra they go blind. They don't see the deplorable roads, lack of Healthcare, deplorable schools, and the lack of electricity in Biafraland and Nigeria.
It is only Nigeria election that they are quick to invest their money in to keep selecting people who will pave the way for the western world to continue stealing oil a d other resources from Biafraland. But this must stop in our territory.
How can American intelligence unit and government cannot condemn extraordinary rendition of Mazi Nnamdi Okwuchukwu KANU and have interest of the legitimacy of election outcome but cannot condemn the extraordinary renditioning of Mazi Nnamdi Kanu? Other problems facing Nigeria cannot attend to by American government. They know about the insecurity and the sent 12 Tucano jets to bomb and killbandits and terrorists. They know the ISWAP is around and they are talking about election rigging as if it is the first thing to look into. But America government evacuated their citizens in Nigeria, America government you are not doing well in the world. American embassy in Abuja is compromised to say the truth of what is happening in Nigeria because bribery she has taken.
Biafrans and Nigerians we must open our eyes and think smart about America, they aresupporting evil in Nigeria. It's time to tell the west enough is enough of all these rubbish and deception. France have been driven out of the Sahel region and we can do the same to these colonial masters in Biafraland. All we need is Biafra referendum and freedom. Is this why they cannot support our freedom?Then we say, to hell with them! They must leave us alone.
.