News
WACOL Inaugurates Group to Tackle Detestable Traditional Practices in Anambra
News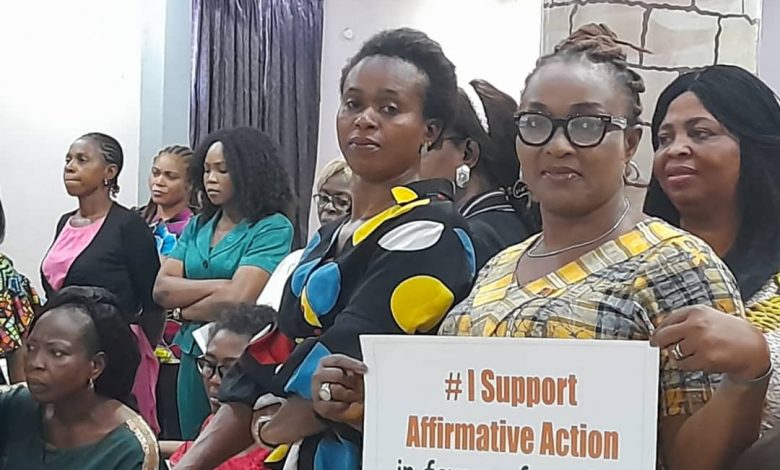 The Women Aid Collective (WACOL) a Non- Governmental Organisation has inaugurated 50/50 Action Women for Elimination of Violence Against Women and Girls (VAWG)in Anmabra.
Mrs. Egodi Igwe, Program Officer, and Head of Communications of WACOL made the disclosure in a Statement she made available to the Newsmen in Awka on Sunday.
Egodi who spoke on behalf of the Founding Director of WACOL Prof. Joy Ezeilo (OON) said that the WACOL, had on March 30-31, held a two-day 'Women's Rights Advocacy and Leadership, in Awka.
She said that the inauguration was achieved after the two days women's Rights Advocacy and Leadership in the state.
Egodi said that the training was apt and in a swift response to the spike in cases of Violence Against Women And Girls in Anambra State.
"WACOL desired to properly position women advocates to respond effectively to the menace particularly, harmful cultural practices against women and girls in the state.
"The group was carefully selected, and trained in areas of Women's Rights Issues, VAWG in Nigeria, Women's Transformational Leadership for the realisation of women's rights.
"Human Rights of Women in International, Regional, National Instruments and relevant SDGs, Advocacy and Lobbying, Networking and Collaborating for Change, as well as the Role and Mandate of Women Fifty- Fifty Advocacy Group,"she said.
Egodi said that WACOL has plan to train a total of 350 women across 7 states of the Igbo land and Niger Delta namely Abia, Anambra, Ebonyi, Imo, Delta, Ebonyi, and the Edo States.
She expressed satisfaction on the class of women selected who participated actively and made valid contributions and assured commitment that would enable WACOL achieve its goal.
"I welcomed the trainees and encouraged them to sincerely take the course very seriously, the aim, and objectives of the project as well as the importance of the training as the activists was explained and welcomed by the participants.
"We at the WACOL are very expectants of quality and good reports and results from the Action Women team from Anambra in a shortest time,"she said.
She disclosed that under the project, WACOL is engaging with relevant stakeholders in 7 different states, 5 South East states, and 2 South-south states to review cultural norms and practices that promote violence against women, with aim of changing the narratives.
"We are presently partnering with the Ford Foundation on a project to translate and transform the social norms in the South-East and South-South of Nigeria through engagement with women's Rights Advocates, and traditional and judicial institutions.
"The objective of this project is to engage with relevant stakeholders in different states to understand and document norms and practices that positively or adversely affect women and girls' rights and general equality in rural communities.
"We are also working on ensuring the elimination of Violence against Women and Girls and the operationalisation of the state of emergency on Sexual and gender-based violence SGBV declared by the Governor's forum in 2020" Egodi noted.
She noted that the training was well attended and state representatives from relevant ministries was in attendance as a proof of their readiness to partner WACOL to achieve grand success in the fight against women violence.
Egodi stated that in their separate goodwill messages, the representatives of ministries of Women Affairs, Justice, and Local Government and Chieftaincy Affairs unanimously agreed that there is an urgent need to intensify action on ending VAWG in the state.
She said that all the relevant ministries made commitments towards eradicating the scourge, and to sustain the mutual partnership with WACOL in the fight.
The statement said that Nneka Anoliefo from the office of local government (LG), chieftaincy, and traditional rulers, in particular, assured that her ministry is working tirelessly in curbing VAWG in the communities.
Anoliefo sighted an example of the latest violence meted out against a woman in Aguleri who was accused of killing her husband, and how the traditional ruler intervened in collaboration with other stakeholders to save the woman from further dehumanisation.
Also at the event, a one-time commissioner of Women Affairs Anambra Dr Ego Uzoezie, expressed huge concern over the increase violence against women in the state and assured that the advocacy would be total.
Also Dean Emeritus, Faculty of Mass Communication UNIZIK, Prof Stella Okunna, expressed concern and dismay over the increased rate of VAWG in the Anambra communities.
Okuna encouraged the participants in the training to leverage the opportunity provided by the capacity to gain skills in preventing any form of VAWG to be able to fight the scourge.
Okunna, who is also the first female professor of Mass communication, however, extolled the sterling efforts of WACOL in promoting and protecting the interest of women, girls, and children.
She further, commended the organisation for the current initiative of empowering women, and girls in society, and pledged her total commitment to the course.
Egodi said that the WACOL 50/50 Action was drawn from community women leaders, female lawyers, market leaders, media leaders, female students leaders, politicians, and women traditional title holders.
She disclosed that WACOL was established in 1997 as an independent, non-political, non-governmental and non-profit organization; registered as a company limited by guarantee as a charitable organization (RC: 388132).
Egodi said that WACOL's vision is a democratic society free from violence and abuse, where the human rights of all particularly women and young people are recognised in law and practice.
" Its mission is to assist in the education, social, economic, and political development of women and young people through a wide range of services: training, research, advocacy, shelter, free legal and financial aid, intra-familial conflict resolution, and information and library services.
"WACOL work throughout Nigeria and in the West African sub-region and its offices in Nigeria are located in eight states namely: Abuja (FCT), Enugu, Katsina, Owerri, and Port Harcourt, Anambra, Ebonyi, and Abia states.
"WACOL in general works in four thematic areas namely; gender
and human rights, peace advocacy and conflict resolution, democracy and good governance, and reproductive health and rights.
"WACOL has established itself as a credible and committed organisation whose work is well recognised beyond the shores of Nigeria.
"It has had observer status with the African Union, African commission on human rights since 2003 and it also has an NGO Special Consultative Status with the United Nations approved in 2010 by The Economic and Social Council ECOSOC," she said.