Uncategorized
We're Under-Used, Anambra Counseling Association of Nigeria Cries
Counselling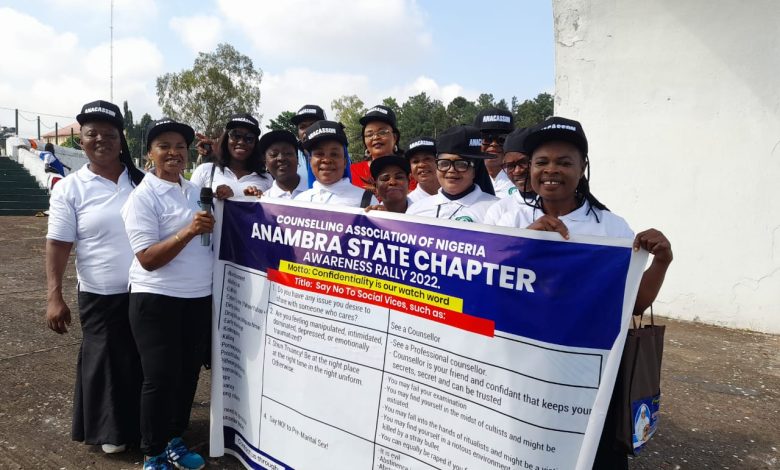 Professor of Clinical counseling at Nnamdi Azikiwe University  Awka, Faculty of Education, Revd Sister, Amaka Obineli, has called for employment services of  Guardian and Counselors in government offices
Obineli, Chairperson of Counseling Association of Nigeria, Anambra chapter, said to journalists  that their services are under used in Anambra during Awareness Rally on Eradication of Poverty orgainsed by the body  in Awka on Saturday.
She said that the theme for year 2022 is "Dignity for All in Practice," poverty is a global issues and it is a violation of human rights and of human dignity.
Obineli pleaded with Anambra Government under the leadership of Prof. Charles Soludo to make maximum use of counselors in the state to achieve optimal success in human development.
She said that  huge positive return would be recorded if government  employs guardian and  counselors in schools, ministries, and agencies of the government to address issues of social vices amongst the people.
She said that their services are free and is highly needed for development and sanity of the society as its role in molding, remolding and development of people lives and career is unbeatable.
" Our Motto is, Confidentiality is our watch word, with this at the back of our mind we restore individual's who are depressed and in emotional black out to return to normal life and engage in activities of development, "she said .
Dr Ndidi Okeke, the Vice President of the association said that counselors are saddled with lots of work to do, starting from proper counseling of primary school pupils to secondary school  students.
Okeke said that greater  work await counselors in Universities and schools of higher learning where independent living appears to be difficult for the students to manage having left their parents to start life alone.
She said that these young adults needed to be well guided and encouraged to form a self positive mind set to take them all through life challenges and make quality life decisions.
Okeke said that counselors services are also needed in government offices and agencies as with proper advise and checks workers would not involve in many wrong practice as dues process would be valued.
She said that a girl child need to be provided for, cared for cherished for whom she is, loved for whom she is and affirmed repeatedly she is priceless, girl child represent half of the worlds population half of its potentials.
Prof Mercy Okonkwo, the immediate past state chairperson of the body said that Poverty is a global issue and it is a violation of human right and of human dignity which need to be addressed squarely.
Okonkwo said that Poverty affects economic and social right of human and that Poverty has made people to be Homeless, Jobless, Frustrated, Depressed and largely involved in violence acts.
She said that services of counselors are highly needed with provision of  basic facilities such as  office to operate from and utility vehicles to traverse  across the state to meet people both at rural and urban centres.
"counselors / psychologist need to engage in activities  such as Education, Entrepreneurship, Conflict resolution  and Social Psychology  to eradicate poverty for a safer society.
Okonkwo  said that counselors are also needed in government offices to always hold seminars with the workers on right attitude to work and quality advice when the trust appears to be falling them.
She said that a counselor knows when best to advise people to see doctors or professional mental health providers because when they counsel people with symptoms like trauma, neglect childhood abuse, loneliness, Social isolation amongst others.