Politics
Why ASMATA Failed to deliver APGA in Anambra Assembly polls –Traders
News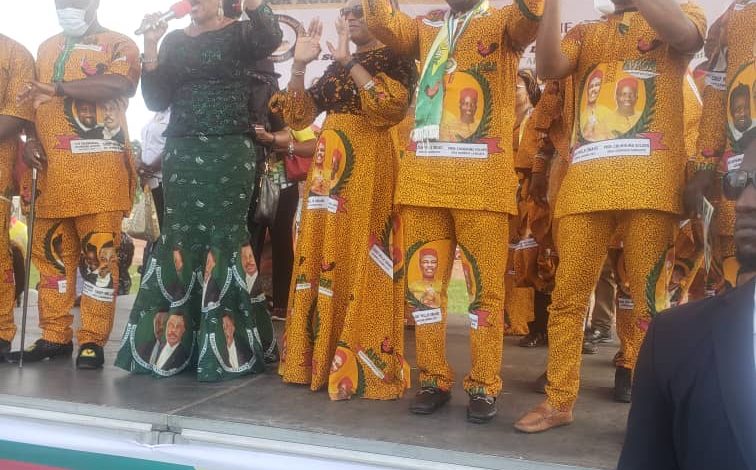 The Concerned Traders of Anambra State has accused the umbrella market body in Anambra State, the Anambra State Markets Amalgamated Traders Association (ASMATA) of failing to deliver the All Progressives Grand Alliance (APGA) candidates in the last House of Assembly Election.
Addressing journalists yesterday in Onitsha the Chairman of the group, Chief Augustine Echezona, said the poor performance of the party candidates in communities that host markets in the just concluded election was due to the failure the President General of ASMATA, Chief Humphery Anuna, and the Chief of Staff to the Governor, Mr. Ezeajugh to offer traders of the State credible leadership.
He said : "ASMATA under Chief Anuna is a total failure. What happened in this election has never happened since the inception of the umbrella market body under Chief Okwudili Ezenwankwo. But what caused it is not far fetched. What caused the failure of traders to deliver APGA candidates was bad policies of Anuna and CoS in Anambra markets. If the Governor looks well, APGA failed in all the communities which have viable markets because of bad policies of ASMATA.Traders protested against those bad policies with their votes in favour of other politcal parties".
He said the traders in the State want credible leadership which should emerge through free and fair electoral process, instead of the current Caretaker Committees which is characterised by, incompetence and nepotism.
He alleged that Anuna and his cohorts prefered Caretaker Committee system because it gives them opportunity to collect huge money from those they appointed.
Echezona said: " How does the Governor want traders to vote for him but does not know that the same traders want their leadership democratised. Anuna and his people want continuation of corruption and nepotism in the markets. He should immediately resign or be flushed out so that traders will have credible leadership in the markets".
The Concerned Traders said that anytime the Caretaker Committee was imposed on any market, it angers the traders and make them antagonistic to the Government.
They said it is only credible market leadership that can talk to traders and they would in turn listen to them, not all this imposed leadership.
The group also called on the Governor to keep his doors open so that traders would be able to see him, instead of the present system where the CoS and Anuna prevent people from seeing him so that their secret deals would not be exposed.
Chief Anuna, said the Concerned Traders, claimed they were popular but he was booed in all the markets he went to campaign for APGA candidates in the last election.
" They were pelted and chased away from those markets because he is not the popular choice of traders and his actions reflects it " said the Echezona.
He said APGA is still a strong party in Anambra State but told the Governor to quickly make amends, saying that if the Governor does the right thing by putting credible leadership in Anambra markets, APGA would bounce back again to its winning feat.
Echezona queried about all those people they claimed have political relevance in the Markets and would make people to vote massively for APGA in the last election but could not influence anything.
Stating that they failed woefully to deliver APGA candidates, Echezona said only credible leadership can bring the party back to its winning ways again.
Some people, he said, who the governor was told to bring back to help deliver APGA in Ogbaru could not deliver even polling unit.
He also stated that it was not levies which caused APGA's failure but bad market policies, especially indisctiminate imposition of Caretaker Committees in the markets.
Chief Echezona said Chief Anuna set up a band of thugs he called "Make Way" whose function is to collect money from different toilets in the markets.
The members of these Make Way who are known with green face cap, he said, cannot be arrested by the Police inspite of their lawlessness.
Echezona said that the composition of these "lawless and irresponsible persons" to extort money from traders is a clear case of encouraging criminality in the markets, saying that these people "are idle persons because no responsible person can join these touts".
"Chief Anuna wants to use the 'Make Way' people to rig election whenever Government gives the nod but his overall motive is to use them to collect penalties for those who failed to pay stallage fees.
alleginf that Chief Anuna had boasted at Ochanja market that he had made over N55 million since he became ASMATA president"he said.
Echezona also claimed that Anuna has hijacked everybody's body in ASMATA, saying he is the "president general, secretary, treasurer and every other positions"
He alleged that last Sunday Anuna invited market leaders to a meeting where he imposed N2,500 levy per a trader in Anambra State, which he said would be used to provide fire fighting equipment in Anambra markets.
But the leader of concerned traders asked when it has become the duty of traders to provide fire fighting equipment even after the payment of their taxes and levies.
He however said traders are ready to give the Government of Prof Chukwuma Soludo tremendous support if he gives his backing for traders to choose their own leadership.
The leader of concerned traders asked the Governor to also appoint somebody who is credible and knows about market administration as the Commissioner for Commerce and Market in the State.
When he was called to respond to the issues highlighted by
concerned traders, Chief Anuna' did not pick his calls.