Politics
YPP candidate for Njikoka 1 collapses structure to APGA counterpart 
Election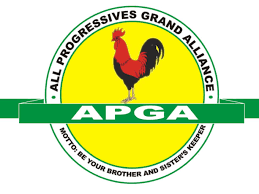 Ahead of Saturday's House of Assembly election, the candidate of the Young Progressives Party (YPP) for Njikoka 1 state constituency, Mr Obinna Onuzulike,  has collapsed his structure for his APGA counterpart, Mr Chidi  Ibeamaka.
Onuzulike collapsed his structure during a day Town Hall Meeting held by AMIHD Pure Link Supports in Enugwu-Ukwu Community, Njikoka LGA on Thursday.
Onuzulike said that his decision was based on his quest to ensure the Constituency gets a more positive response from the electorate.
He said that Ibeamaka is more of a grassroot person and decided to step down for him to create chance for him to clinch the seat.
"I feel that Ibeamaka is more politically grounded now and in sense of brotherhood I took the decision,APGA  is the ruling party, which stands greater chance" he said.
Speaking Ibeamaka commended the group for organising such a laudable meeting for all candidates vying for same seat.
He said that earlier that the group had invited all the candidates to a "A Talk -Show Debate in favour of all Anambra State House of Assembly contestants.
Ibeamaka said that the debate exposed the candidates to exposition of their manifesto on March 5 to the electorate.
He said that the meeting was also to give results of their performance during the Talk Show Debate which a certificate of excellence was presented to him by the group.
Ibeamaka appealed to electorate to vote for him on March 18 for effective and quality representation with democratic dividends.
Mr Chukwujekwu Ayika,a chieftain of the community urged the electorate to vote for APGA because of their candidate who is a seasoned personality.
Ayika said that the constituents wants a representative that will lobby rightly to attract development as well as making friendly laws.
Mrs Jane Ofoedu a participants said that all the needed was someone who can be their voice in the state which she think is seen in Ibeamaka.
Earlier,the coordinator of Articulated Minds Initiatives For Human Development (AMIHD) Pure Link Dupport Barrister Patience Eboh said the goal was to give quality voter education and sensitisation to the voters.
Enough said that groupbis comprised of different personalities that cut across the country who not biased in their political ideology and education.
She said that the Townhall Meeting was a Grand Finale Event to present and endorse the best candidate for the job.
" We started the process long enough that saw the debate Show on March 5 and after careful assessment has decided to present the best candidate to the electorate for March 18 election in Anambra.
" Intergrity ,Capacity and competence, impeccable character, one who has shown the spirit of honesty, all inclusivness,and transparency and a mission to fulfil a purpose,"she said.