Education
200 pupils gets free dental care tools from Rotary Int'l
Education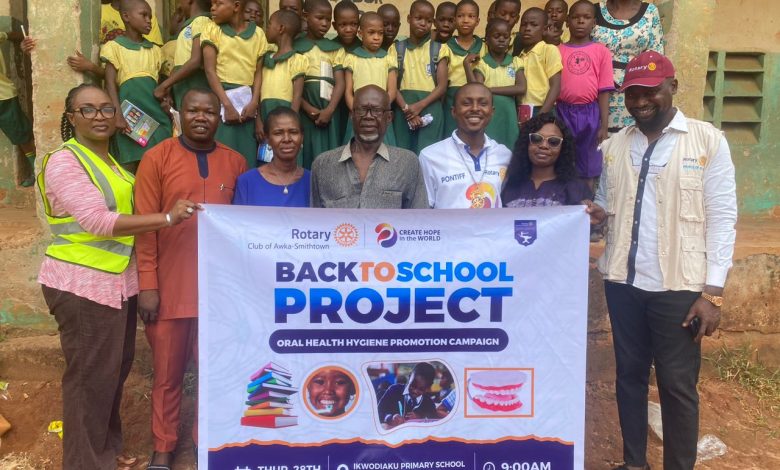 Mr Valentine Okaudu, President, Rotary Club of Awka-Smithtown, District 9142, in company of his club members have donated dental care kits to Ikwodiaku Primary School, Awka, in Awka South Local Government Area of Anambra.
Okaudu made the donation on Thursday in line with the Area of Focus of Rotary International/ Monthly Designation for September which is Basic Education and Literacy and Oral Health Hygiene.
The club used the visit to preach the message of proper Oral Health Hygiene amongst pupils and teachers for its Oral Health Hygiene Education sensitisation programs in schools as is in rotary international yearly program.
Okaudu in its bid to push through the importance of Oral Health Hygiene amongst pupils and teachers in the school engaged a dental expert to teach the pupils and teachers of the school reason to be dental care friendly.
He encouraged the pupils to be more obedient, more committed to their studies and ensure they take the message of Oral Health Hygiene to their parents and guardians, relatives and friends respectively.
Okaudu encouraged the teachers to join the Rotarians to share the tooth brushes and tooth paste to each of the pupils and students who were on ground at the event as it is a rotary norm to sustain projects when done.
Speaking at the event, the Oral Health Therapist Miss Ogechukwu Nwani, explained and demonstrate to the pupils and teachers the proper way to brush and take care of the teeth.
Nwani said that the basic materials for cleaning of the teeth are toothbrush and toothpaste, she furthered explained various types of toothbrushes, medium and soft and advised that pupils should use soft texture type of toothbrush.
She said that toothpaste that contains fluoride should be used always because of fluoride is an active ingredient every toothpaste should contain as it is a chemical substance that helps to fortify the teeth against tooth decay.
Nwani explained that the best method of tooth brushing is roll method because it ensures proper cleaning of the teeth and demonstrated to the pupils and teachers on how best to use the method.
She said that brushing the teeth in a vertical, horizontal or circular motion may not give proper teeth cleaning and may result to teeth and gum damage.
Nwani said that regular tooth brushing will help remove dental plague from the teeth while failure to do so will lead to gum disease.
"Brushing will go along way to prevent mouth odour which may affects ones relationship with others in the society.
"Brushing of teeth can help to prevent tooth decay, it helps to enhance ones aesthetics,if the teeth is clean when you smile it makes you look more beautiful,"Nwani said.
Nwani also discouraged the audience not to use their teeth to open sharp objects to avoid teeth crack, to avoid sharing of tooth brushes with relatives or friends as it is a personal object to avoid infections.
"The use of dental floss to remove food particles that enters in between the teeth is more ideal instead of toothpick which may cause injury to the gum.
"Ask your parents and guardian to take you to dental clinic every 6 months for dental checkups and professional cleaning of the teeth as it has a lot of role to play in maintenance of good oral hygiene,"she said.
Miss Mmesoma Onwe, a primary six pupil who spoke on behalf of other pupils commended the club for choosing their school for their 2023 rotary year program.
Onwe commended the dental expert on a good teaching given to them on importance of oral hygiene and assured that their take away lesson would be shared amongst relatives and friends and promised to inform their parents.
Mrs Margaret Anaenye, Head Mistress,of the school assured the team that their teaching would be transferred to others pupils both in the school and outside the school environmnet.
Mr Tony Muo the Parent Teachers Association, PTA of the school appreciated the team on behalf of the Pupils and Teachers of the Ikwodiaku Primary School.
Muo said that he too was a Rotarian when he was younger and appreciated the club for choosing the school he represents and urged them never to stop the good work.
"Rotary truly create Hope in the World, it was indeed a great event and we will continue to be grateful to Rotary International," he said.