Politics
2025: Anambra will shame you, APGA tells Ifeanyi Ubah, Ejidike, APC
Politics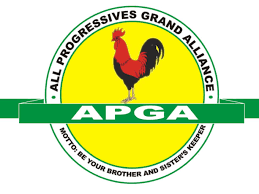 By Our correspondent
The All Progressives Grand Alliance ( APGA) has predicted that the Anambra State electorate will disgrace the trio of All Progressives Congress (APC), the Senator representing Anambra South Senatorial District, Chief Ifeanyi Ubah
in the 2025 governorship poll in the state.
APGA also said the state APC Chairman, Chief Basil Ejidike, would not be spared from the odium that would trail the party in that year's poll.
The National Coordinator of APGA Media Warriors Forum, Chinedu Obigwe, stated these in reaction to the tantrums by Ubah and Ejidike.
Ubah had in a recent statement via his media aide, Michael Chibuzor, said that the Anambra State Governor, Prof Chukwuma Soludo had become jittery of Ubah and the APC about the 2025 poll in the state following the victory of the APC in Imo and Kogi states while Ejidike said APGA would die naturally in 2025.
Reacting to the development, Obigwe described the Ubah/Ejidike tantrums as
laughable.
He said, "It's only someone that does not know Governor Soludo very well that will author such senseless piece.
"In 2021 that Governor Soludo contested the last election, assassins brutal attack on him at isuofia did not make him jittery or frighten him and one political lunatic is claiming that APC victory in election held in two States of imo and Kogi made him jittery, this is truly a beer parlour talk and a cock and bull story.
"In Anambra, APC is a non existent party. Even ifeanyi Ubah that defected to the party made the open confession to those that lured him into joining the party.
" I reliably gathered that he told them that Anambra people hate APC with passion and that the party is not in existence in the State.
"The question to ask is why didn't APC win Bayelsa State that was under the firm control of PDP.
"The only thing I know that will happen in 2025 is that APC will attempt to rig the election but Anambra electorate will resist them vehemently as they did in 2021.
"The will of Anambra electorate must prevail in 2025 and if that happens, APC will score a distant 4th position trailing Labour Party behind.
"For now, there is nothing enticing in APC that will make Anambra electorates to vote for them. So those thinking that APC will dislodge APGA in Anambra should wake up from their slumber.
Speaking specifically about Ejidike, Obigwe said," Basil Ejidike, the Anambra State Chairman of APC is a character that should be ignored by sane minds.
"He speaks from the two sides of his mouth and can do anything to feed his insatiable stomach infrastructure appetite.
"I will not fail to remind my readers that it was this same Basil Ejidike that publicly endorsed Andy Uba broad daylight robbery of APC ticket in 2021 and George Moghalu disgraced them at the Law Court.
The Court gave a judgment stating clearly that Andy Uba candidature of APC in 2021 was not a product of a free and fair primary election and for that reason that APC did not have candidate in that election.
"This is something Basil Ejidike called press conference to tell the whole World that Andy Uba emerged as APC candidate for the 2021 governorship election through a free and fair primary process.
"This same Basil Ejidike was denied the exercise of his democratic franchise by Andy Uba in that disputed primary but he went ahead to endorse the broad daylight robbery.
"For Ejidike, it's all about his stomach and as long as you offer him money in Ghana must go bag, you did not commit any sin.
"His threat that APGA will die a natural death in 2025 is an empty threat.
He issued similar threat countless times in 2021 but APGA still triumphed over their evil plan. The same thing will happen in 2025.
"On Basil Ejidike claim that former Governor Obiano will join APC alongside Sen Uche Ekwunife and others, I will say that he is not in a position to speak for Obiano.
"The general public should disregard such claim until they hear from the horses mouth.
The only thing I will add is that I don't see Obiano making the same mistake Peter Obi made.
Another thing I will say is that Obiano having retired from active politics is not looking for anything from APC and for that reason, they should allow him enjoy his retirement after serving Anambra very well for good 8years.
On the performance of APGA government starting from Peter Obi administration to Obiano and currently under Governor Soludo watch, I will say that APGA can be referred to as the inventor of modern Anambra State.
All the good things being enjoyed by ndi Anambra today came through APGA government.
Ndi Anambra are seeing APGA government as their God given messiah hence the reason they will continue supporting the party.
If a child is doing well, you encourage and support the child to do more, this is exactly what Anambra electorates are doing by voting APGA in every governorship election.
For me , what Basil Ejidike and his cohorts are doing can be likened to a cat chasing its tail.
They should stop wasting their time because ndi Anambra will not vote for APC and they will not also allow them to rig the 2025 governorship election.
As for people joining APC every election season in Anambra, we are used to that.
It happened in 2021 but the good people of Anambra that are in the majority still voted for APGA.
Basil Ejidike and his cohorts in APC should expect another shocking defeat by APGA in the forthcoming 2025 governorship election.