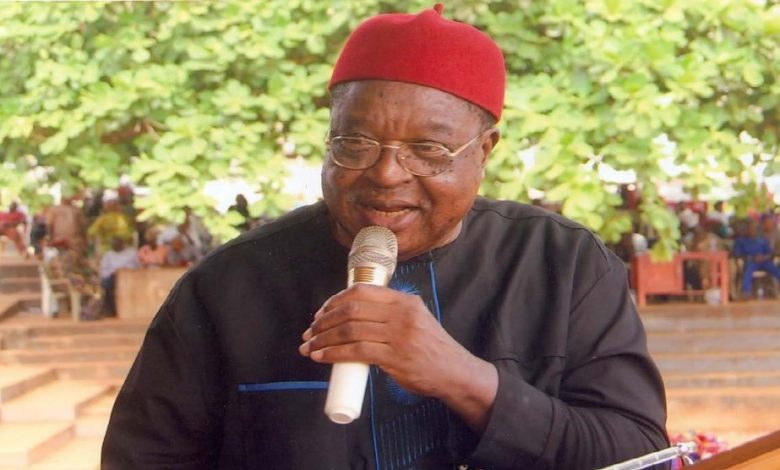 A veteran journalist, Mr Uche Osibe, who is also known as Osibe Osiberoha has mourned the passing of Chief Charles Amilo (Udo Obodo).
SEE THE TRIBUTE BELOW…
The Chief Charles Amilo, Ozo Udobodo na Enugwu-ukwu, that I know. Fare thee well. He was a father figure, mentor, associate, adviser, friend and motivator.
Apart from my knowledge of him as a law maker in the Old Anambra state House of Assembly, Hon. Chief Amilo was a motivational speaker with copious literary licence.
Interview him: He was a journalist's delight. Deriving from one of the published interviews I had with him as a Correspondent of the New Age Newspaper about 2003, he would, in all humility, tell everyone who cared to listen, that I made him a Commissioner for Information.
He once admitted it before Senator Ngige. I had done a question-and-answer session with him in which he roundly rubbished Ngige's god-fathers. Ngige did not believe Amilo could come that hard on his traducers on his behalf with no promptings, because, both of them were Eselu's Scribes who did most of the speeches of the godfather and his co-travelers.
Ngige invited to see him at Govt House which he honoured and thereafter he appointed him as the Commissioner.
Each time he saw me, he felt obligated to do something in appreciation which he did time and time again. Even when I was not keen working with him as Commissioner, he would occasionally invite me over and extend freebies and brownies. Yet, he always wanted to carry me along in most of his undertakings, including when he went into ÀPC and severally headed Ngige media team.
Amid envy and opposition, which in mature disposition I consider natural, he got me enlisted for Ngige's monthly stringer's allowance and a flat, a three-bedroom apartment at Commissioners' Qtrs.
Like a Policeman, I looked forward to and kept date with every Christmas and Ofala Enugwu-ukwu festival. The occasions got me smiling and l also admit like Don Ray – journalism is sweet.
Christmas 2021 was here. Hoping Ozo Udobodo had fully recovered, I sent him very good health wishes and then Christmas greetings on December 25, 2021. He replied: "Osibe, This is from you. Merry Christmas and a Happy New Year."
It was not the usual response, making my thoughts run riot and I decided to skip last Christmas for Ofala visit on January 8, 2022. I had hoped to hear him shout on seeing me: "Chief Osibe. You are here. Welcome, my friend."
Then the December 31st 2021 shocker. What a sad news to end the somersaulting year. Indeed, I lost a man whose humility, brilliance and rich sense of history I admired and emulated.
A wordsmith of our age. Ozo Udobodo was a man who while in charge, he would step aside and serve as a supervising figure head, while giving you the free hand to give expression to your ingenuity. A great mentor is gone like a candle in the wind. Adieu Udobodo. You came, you saw and conquered.
By OSIBE OSIBEROHA