News
Achebe Airport: Obiano kicks , says my wife ,others warned me about Soludo
News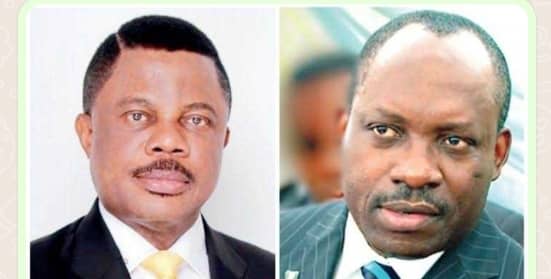 ~ I don't think Obiano said this – Soludo's Press Secretary
Former Anambra State Governor, Chief Willie Obiano, has expressed strong disapproval of the decision to name Anambra State International Airport after Prof. Chinua Achebe, referring to it as a cruel and ungrateful act. He suggested that this singular action validated the concerns raised by many people, including his wife, regarding Governor Charles Soludo's "inhumanity", and this was one of the reasons she and others were mad at him for supporting Soludo's bid for the governorship.
"A very unforgiving man, that was while he fought against my wife's senatorial ambition", Obiano declared.
Obiano shared his sentiments with a group of Anambra residents who visited him in the USA, led by Prof. Chinedu Onukwuru, an academic teaching in the United States. The purpose of their visit was to express gratitude to Obiano for his role in establishing the airport.
During the discussion, Obiano recounted how his administration, while in office, approved the naming of the airport after him and sent the resolution to the House for confirmation. However, he claimed that Prof. Charles Soludo, who had already been elected as the Governor at the time, interfered through influential individuals in the House and changed the decision.
Obiano also reminisced about how those close to him staunchly opposed Soludo's candidacy for Governor, including his wife who supported Hon. Umeoji. He asserted that he had made it clear to Soludo that his only request was to have the airport named after him. Instead, Soludo chose to name it after Prof. Achebe. Obiano argued that, as a literary figure, Achebe should have been honored with a facility like the International Conference Centre, which hosts seminars and educational events.
Expressing his frustration, Obiano stated that anyone who knew Soludo should advise him to keep the International Conference Centre and name it after whomever he pleased. He concluded by saying that Soludo could even name it after himself or his wife, but not after him.
Reacting to the development, Christian Aburime, the Press Secretary to Anambra State Governor , Prof Chukwuma Soludo, said he doubted the story.
Aburime said, " I cannot confirm it . But I doubt if former Gov Obiano would speak in this way".