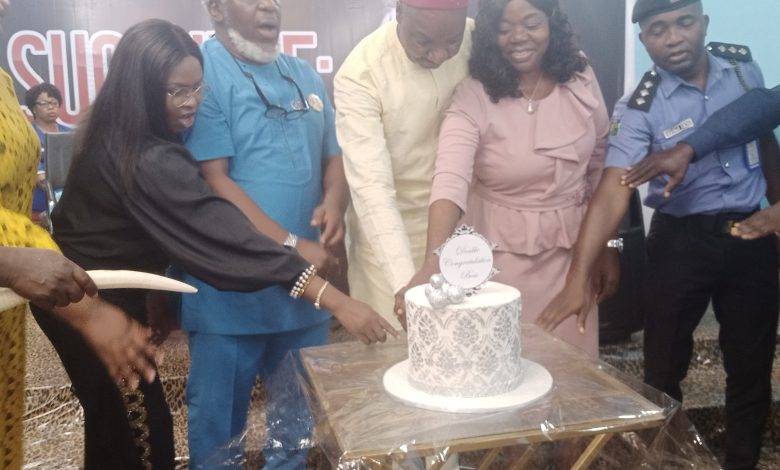 There was open show of emotion at the Anambra State Broadcasting Corporation (ABS) on Thursday as Director of News and Current Affairs of the organisation, Mr Gab Okpalaeze celebrated his retirement.
The event was also organized by the organisation to mark Okplaeze's 60th birthday. The twin celebration evoked happiness and sadness at the same time, among members of staff of the organisation.
Many of the staff members who spoke at the event were emotional that Okpalaeze would be leaving the organisation, while at the same time expressed happiness that he was retiring safely after unblemished service and also marking his birthday.
Judy-Jeff Nwabueze, acting Director of News and Current affairs who spoke at the event said Okpalaeze would be missed because of his diligence and dedication to the job, including teaching others.
"He mentored us well and we will miss him," Nwabueze said.
Managing Director and Chief Executive Officer of ABS, Chief Chido Obidiegwu in his comment said that the event of the retirement of Okpalaeze has made him so emotional.
"This is not a very wonderful moment for me. I'm very emotional now, and a day like this should be for reflection. What will people say when your own day comes.
"I knew Gab before becoming MD and you can define him as a quintessential gentleman. I can comfortably say that he is a definition of trustworthiness, professionalism, honesty and many more.
"His exit will create a big gap here. He is the only person who has ever been acting MD twice in the history of ABS, yet he never had the opportunity of being a substantive MD.
"If it was in my power to make him MD, I would have done it, so that now that he has retired, I would now come, but it was not in my power. Even though he never became substantive MD, you will never see him without a smile. For some people, it would have weighed them down, but not Gabby," he said.
As a mark of respect, Okpalaeze was given the honour of presenting a paper on the place of traditional broadcasting in the era of social media. The paper was prepared to teach young broadcasters the robes as he leaves the organisation.