Media Watch
Aiza Nwosu Rehabilitates Failed Portion of Road in Awka
News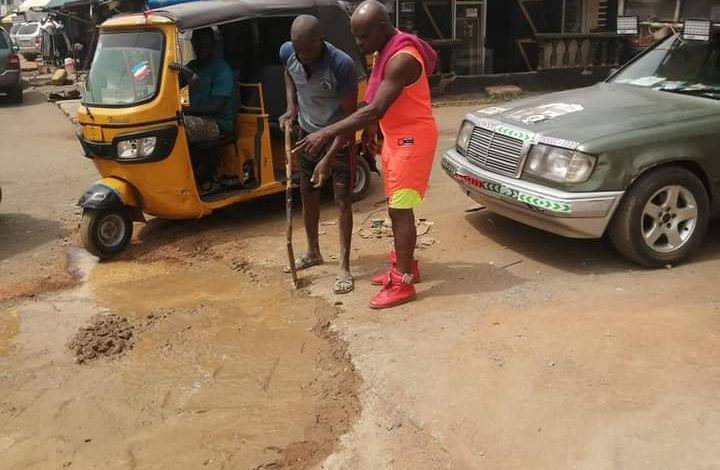 Isaac Nwosu popularly known as AIZA, an event MC, a Social activist in his rights, a radio presenter and a community Leader, who holds the title of Obuzulu Awka has rehabilitated a failed portion of land in Awka.
Known for his comic acts in the entire State capital and the state at large, Aiza drives around in a Mercedes-Benz car decorated with all manner of public address system, and blasts high sounding music everywhere.
A social media user, Nonso Oguno who witnessed Aiza while rehabilitating the failed spot praised him for his contribution to society.
You see this Man, he's everything lacking in this our Society.
"He's a trailblazer, an inspiration, a Role Model but painfully, the Society may not subscribe to this line of thought because of the negative effects of materialism.
"He had always taken responsibility, unequivocally given his voice especially on trends that may negatively affect the Society. Today, he has taken responsibility once more, this time he had shown Leadership.
"Single handedly, he's fixing a wide pothole at a very bad spot at the mouth of Ifite Road by Zik's Avenue though I stopped to offer support because of how deeply I was moved.
"He's an epitome of Purpose and passion because many had become MC through him and he does virtually everything with this uncanny kind of drive respectively.
"From now on, I offer him the title of Maestro Isaac Nwosu and because our Society is engulfed by the evil of Materialism, it has failed to recognize that this man deserves the title of Sir. Isaac Nwosu as it is done in the UK.
"In due time, Social Liberation Vanguard will feature him in our documentary series titled – "The Legend almost forgotten" as an inspiration for the coming generation against the Status quo.
Good Morning!!!"