News
Anambra Central, LP's Umeh Kicks-off Ward Tour in Awba-Ofemmili
Politics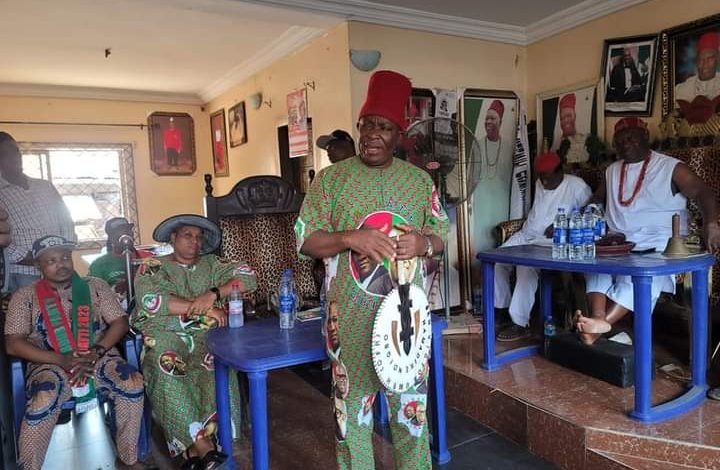 The Candidate of Labour Party for Anambra Central Senatorial Election, Senator Victor Umeh OFR (Ohamadike Ndigbo) today led members of his campaign organization and the Party's House of Representatives Candidate for Awka North and South Federal Constituency, Prof Lilian Oby Orogbu and the House of Assembly Candidate for Awka North, Hon. Ferdinand Onwuje on a campaign Tour of Awka North communities during which electorates were enlightened on where and how to cast their votes validly in the coming General Election.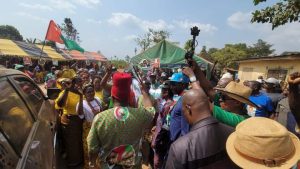 During the Tour of Awba-Ofemmili, Senator Victor Umeh made a courtesy call on the Traditional Ruler of Awba-Ofemili, HRH Igwe Ernest Maduagwuna (Ofemmili 1 of Awba-Ofemmili) to solicit for the support of the Palace and to receive royal blessings for successful elections and victory for the OBIdient Team.
Senator Umeh speaking during the rally thanked Awba-Ofemmili community for their support for him and the OBIdient Movement pointing out that the agrarian community will benefit enormously should the Labour Party win the coming Elections as there will be special attention to agriculture in the Peter Obi led administration.
He urged them not to allow politicians of other political parties to deceive them as the Labour Party is the only Party that has given the South East geopolitical zone the opportunity to participate in the coming Presidential Election by fielding Mr. Peter Obi as its presidential Candidate and for the momentum the OBIdient Movement has garnered throughout the country; every true onye Igbo should endeavor to vote for the Labour Party in the coming Election to ensure he wins convincingly and to also elect competent members of the National Assembly that will collaborate with the President in effectively achieving the set-goals.
He enumerated some of the remarkable achievements of his 17months service at the National Assembly especially his robust contributions in the Senate as well as his projects and people-oriented programs of which many constituents including citizens of Awba-Ofemmili/Awka North benefited gainfully.
On their parts, the people of Awba-Ofemmili speaking through their representatives extolled Senator Victor Umeh for his unprecedented landmark achievements in his short stay in the Senate especially for the scholarships given to students, job opportunities, empowerment and skill acquisition programs for women and youth, and for his consistent advocacy for good governance, justice and fairness which inspired his joining the Labour Party and throwing his weight behind the OBIdient Movement in Anambra State.
They assured him of the unanimous support cum votes of ndị Awba-Ofemmili/Awka North people for Mr Peter Obi—LP Presidential Candidate, Senator Victor Umeh—LP Senatorial Candidate for Anambra Central and other candidates of the Labour Party in the coming Election.