Politics
Anambra North women want Obiano's wife to replace Oduah in senate
Politics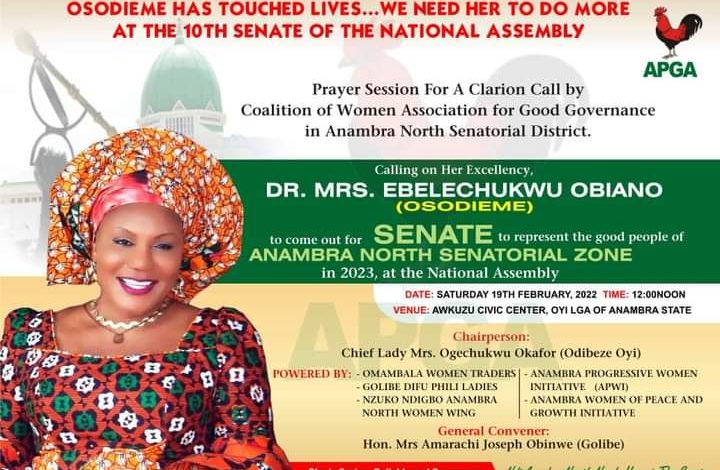 By Nwafor Okafor
Women in Anambra North Senatorial District have urged the wife of the Anambra State Governor, Dr Ebelechukwu Obiano to declared for Senate for the zone in 2023.
Describing her as the woman who had positively touched the lives of people, especially women, they urged her to continue the good work by going to the Senate to represent the area.
To this end, the women have organised a prayer session where they would ask God to hear their prayers by making it possible for Mrs Obiano not only agreeing to their request but to win the senatorial poll of the area next year.
Speaking on the development, a woman leader who gave her name just as Susana Ibe, said the clarion call to Mr Obiano for the position was an indirect way to pass a vote of no confidence in Senator Stella Oduah who is currently occupying the senatorial seat of the area.
Susana said," It's clear. The clarion call is a vote of no confidence on Oduah. She can't smell there again. We want Dr Ebelechukwu Obiano in the Senate.
Soludo needs National Assembly members he would be holding meetings regularly with to move Anambra State forward. Ebelechukwu Obiano is Mama Anambra and Mama APGA. We need her" in the Senate for Anambra North, Susana stated.